$30 million to High Point U from John and Lorraine Charman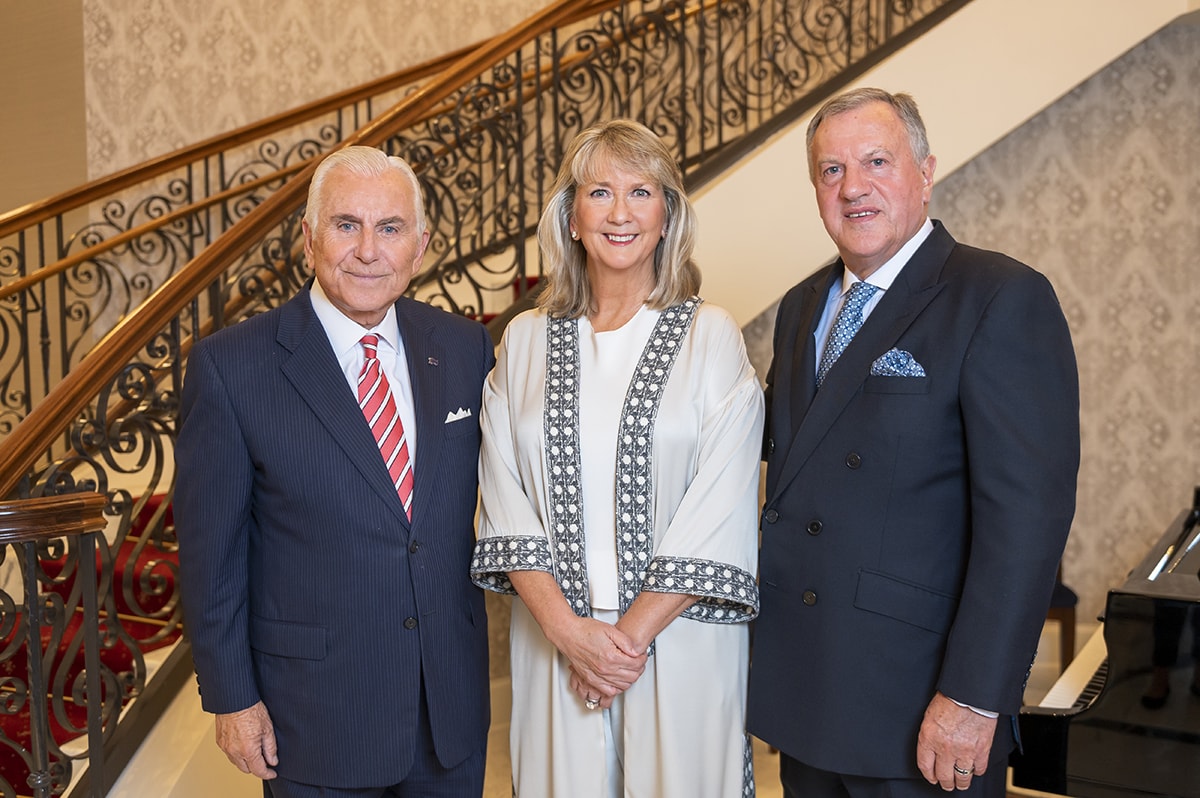 High Point University, North Carolina President Dr. Nido Qubein unveiled a $30 million transformational lead gift from John and Lorraine Charman to help fund the new $80 million library, which is expected to be completed in 2025-2026.
The new facility will be named the John and Lorraine Charman Library in honor of their generous contributions to the growth of the university.
"John and Lorraine Charman are a wonderful couple who stepped up with faithful courage to invest in our library and in several other important projects on campus," says President Qubein. "They are planting seeds of greatness for HPU students like their daughter Olivia. It is a blessing to have the advocacy and trust of people like John and Lorraine who share our passion for a values-based education, and the lasting impact that a library will make on our students."
The Charmans have a love for literature, and particularly in printed books. "Helping build a state-of-the-art library at HPU is the perfect opportunity for us to share our passion for books with the HPU community. It is our sincere hope that this library creates another environment on campus for students to learn, grow and challenge themselves," says Lorraine Charman.
This gift is part of the $100 million HPU recently received from three separate families, which was announced at a press conference in March.
"High Point University is committed to preparing students for the world as it is going to be," says John Charman. "President Qubein leads a culture that is focused on instilling life skills and values in HPU students. Lorraine and I are proud to partner with such an innovative and highly relevant institution."
The $80 million library will be focused on innovation and collaboration with ample study space for students. The four-story facility will provide 150,000 square feet of textbooks, digital databases, private study space, and a gallery featuring historical artifacts and displays of HPU's expanding collection of artwork.
It will feature the Library of Congress Classification System and become the main library, supplemented by several existing satellite libraries across campus.
The new library will be located on the main campus next to the R.G. Wanek Center on Panther Drive.
John and Lorraine Charman are both retired business leaders living in Palm Beach, Florida and Bermuda. The Charman family are HPU advocates who have supported the university from the moment their daughter Olivia enrolled. Olivia, a proud HPU Panther, is a Dean's List student majoring in criminal justice and psychology. Olivia also has a minor in French.
John is a recently retired executive officer for Sompo Holdings, Inc., where he served as the CEO and Executive Chairman of the Board of Directors from 2013 to 2021. John joined Endurance Services Ltd as Chairman and CEO in 2013, which he then restructured and sold to SOMPO in 2016. As CEO of the Overseas Insurance and Reinsurance Business, John directed the integration of SOMPO businesses into a truly global enterprise.
Prior to Endurance/SOMPO, he founded and held chief executive roles at a series of companies. After starting his career at Lloyd's of London, he worked for a major Hong Kong shipping company before returning to Lloyd's to create his own insurance syndicates, one of which he sold to Ace Ltd. In 2001, John founded Axis Capital Holdings, Ltd, where he served as the CEO. He also served as the deputy chairman of the Council of Lloyd's, and a member of the Lloyd's Core Management Group and Lloyd's Market Board between 1995 and 1997. He retired after 50 years in the insurance industry.
John serves on the Board of Masterworks Museum of Bermuda where he started the Charman Prize for the museum in 2008. Initially an annual prize, the Charman Prize is a juried art prize which just celebrated its 10th year.
Lorraine earned her bachelor's degree from Stonehill College and her master's degree from Northeastern University. After a brief period working for the State University of New York, Lorraine began her career in human resources at Racemark International, before moving into financial services with KeyCorp in 1988. Working primarily in employee relations and employment, she also was a part of the M&A integration team and became the Vice President of employee relations.
In 1992, her experience at KeyCorp led her to Franklin Resources. Lorraine served in several senior human resources roles with Franklin, initially focusing on HR integration and building an HR team. In 2002, Lorraine joined Axis Capital Holdings Ltd as chief human resources officer, where she remained before retiring in 2006.
Photo: High Point University President Dr. Nido Qubein with John and Lorraine Charman