$17 million gift to MSU from Martin Vanderploeg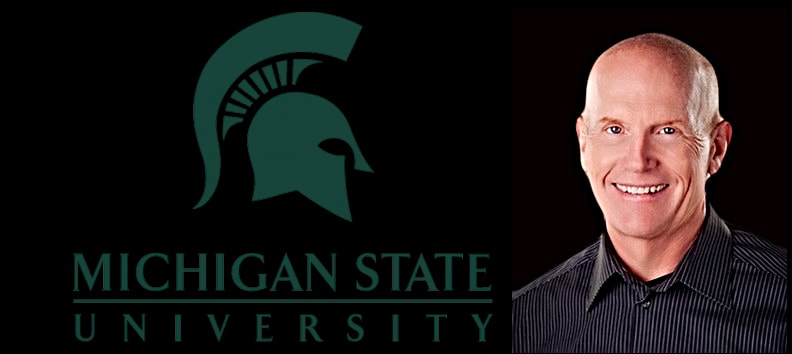 Alumnus Martin Vanderploeg supports first-generation students and expands engineering research
Michigan State University has received a $17 million gift from an alumnus that will create a signature program to help first-generation students succeed in college and will fund additional endowments to attract and retain faculty leaders in engineering.
Martin J. Vanderploeg, a technology pioneer and the president and chief executive officer of Workiva Inc., designated more than 70% of his gift to establish an endowment for the Vanderploeg Scholars Program at MSU to support first-generation students — those who are the first in their family to attend college — with scholarships and academic programming.
Vanderploeg, who received bachelor's, master's and doctorate degrees in mechanical engineering from MSU, also gave to the College of Engineering to create endowed faculty positions and to advance engineering research while creating new opportunities for students to learn from and collaborate with esteemed professors.
"I think humanity's hope is in education," Vanderploeg said. "Our large public universities are one of the most valuable educational resources we have. They do the bulk of good for the world and it is an asset that our country depends on. I am privileged to be able to help Michigan State as one of those great institutions."
"Preparing bright young people to guide the world through whatever challenges lie ahead is central to everything we do at Michigan State, and the Vanderploeg Scholars Program will help ensure first-generation students have that opportunity. Likewise, a great faculty is at the heart of our creative enterprise and these endowed positions and the research support fund will enable us to attract and retain leaders who are on the cutting edge of discovery," President Stanley said. "We are profoundly grateful for the support and generosity of Marty Vanderploeg. MSU is honored to acknowledge his contributions with creation of these positions and resources."
The Vanderploeg Scholars Program will provide new avenues to success for first-generation students for whom navigating academia may be especially challenging. Participants will be supported through multiple initiatives, including scholarships, summer bridge programs, extra academic advising, a study abroad opportunity and a mentorship program. Vanderploeg Scholars will meet regularly with Vanderploeg Advisors, who will take an individualized approach to each student's success.
The program aligns with one of the key pillars articulated in MSU's recently released strategic plan: closing undergraduate opportunity gaps. Currently, 21% of MSU's undergraduates are first-generation, many from economically disadvantaged backgrounds.
"We know that first-generation undergraduate students persist and graduate at much higher rates when they are supported both inside and outside of the classroom," said Associate Provost for Undergraduate Education Mark Largent. "They flourish when they collaborate with other students from first-generation backgrounds, and when they see and hear their presence at MSU recognized and honored. Mr. Vanderploeg's generous gift will allow us to create a cohesive program of support for first-generation students at MSU. Our inaugural Vanderploeg Scholars will arrive on campus already connected to a social and academic success network. We're grateful and delighted Mr. Vanderploeg is helping us cultivate a sense of belonging for tomorrow's Spartans."
Endowed gifts are invested to provide a steady, consistent, and perpetual source of income. Vanderploeg set aside a $200,000 portion of his total gift to be used immediately to cover the expenses necessary to begin the scholar program in 2022.
Having been inspired as a college student by his own faculty mentor, Vanderploeg recognizes how transformative an outstanding professor can be to an aspiring engineer. His additional $5 million in support for the College of Engineering will create three endowed faculty positions, one named in honor of his father, Marvin L. VanDerPloeg, who graduated with a bachelor's degree in mechanical engineering in 1956. His gift also creates an expendable research fund in the College of Engineering to enhance and strengthen the scope and scale of research capabilities.
"Michigan State has been preparing talented engineers to tackle society's grand challenges for generations, and our incredible alumni continue to forge a path for future Spartans to build on this legacy. I am very grateful to Marty for this very significant investment in our college," Engineering Dean Leo Kempel said. "I am particularly pleased that some of these resources will be used for rotating endowed professorships as all the departments in the College of Engineering are in a very competitive market for talent at all levels of experience."
Vanderploeg is known for his leadership in the technology sector, including as co-founder of Workiva Inc., a cloud-based software technology company for managing business data, and as co-founder of Engineering Animations Inc., which specialized in computer assisted design software used in medical and forensic applications.
Previously, Vanderploeg was a tenured professor of mechanical engineering at Iowa State University, where he founded and directed the Visualization Laboratory.