$30 million gift to ECU from Brinkleys and Lanes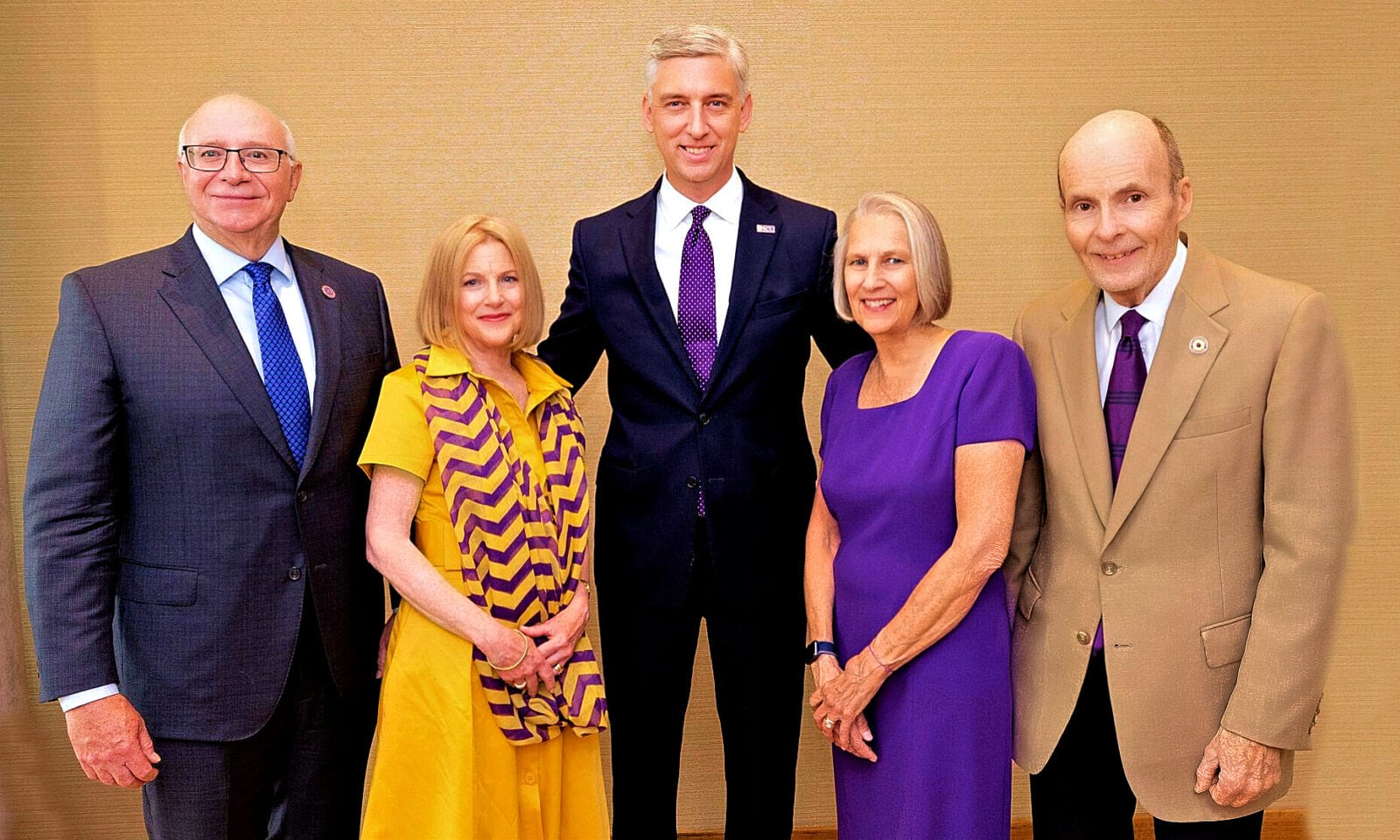 In a milestone moment for East Carolina University, Chancellor Philip Rogers, announced a combined $30 million commitment to the institution from Robert Gentry Brinkley '78 and Amy Woods Brinkley and Lewis Patrick Lane III '67 and Lynn Lewis Lane. The EC Scholars program will now be known as the Brinkley-Lane Scholars program to honor their investment.
"Robert and Amy Brinkley and Pat and Lynn Lane have sustained ECU with unwavering devotion, and today they have joined together in a commitment, which will be the cornerstone of the university's continued success and standard of excellence," Chancellor Philip Rogers said. "We are humbled by their dedication to ECU and overwhelmed by their generosity. It is our honor to recognize their historic support by renaming the EC Scholars program the Brinkley-Lane Scholars program."
The Brinkley-Lane Scholars program is the hallmark of the Honors College and represents the most prestigious undergraduate award program offered at ECU. EC Scholars was established in 1998 as a merit scholarship program for high-ability students who have the promise and capability to become scholars and leaders in eastern North Carolina and beyond.
The impact of the Brinkley and Lane families' lifetime commitment will be felt immediately in the Honors College.
"This is a significant milestone for the scholars program, the Honors College and all of ECU," said Todd Fraley, dean of the Honors College. "The word we have been using around the office is transformative. We want to thank the Brinkley and Lane families for their tremendous generosity and demonstrated commitment to the success of our students."
The families have made the largest combined commitment in the university's history. Brinkley and Lane also join a distinguished list of names renowned for the top academic scholarships in higher education around the nation.
"These families are advancing a bold and mission-aligned commitment to drive student success and academic excellence at ECU," Rogers said. "Each year, Brinkley-Lane Scholars will arrive at ECU and have an immediate impact on campus as they learn, serve and become exceptional leaders. Brinkley-Lane Scholars will be known in the region and beyond as these Pirates lead in their fields for decades to come."
Rogers said the commitments by the Brinkleys and the Lanes are also history-making for the university's Pursue Gold campaign. With their investments, the campaign has now reached 95% of a $500 million goal.
Robert Brinkley received a bachelor's degree from the College of Business and was a 4-year letter winner on the Pirate baseball team. He earned a law degree from Wake Forest University, has practiced law in North Carolina for more than 35 years, and is a partner in the Charlotte office of Womble Bond Dickinson.
He has served on the ECU Board of Trustees including two years as chair; the ECU Foundation Board of Directors; the ECU Board of Visitors and the ECU Real Estate Foundation. He served on the steering committee for the Campaign for ECU Scholars and the ECU baseball stadium steering committee, and currently he serves on the Honors College Advancement Council.
Amy Brinkley had a three-decades-long career at Bank of America. Over the course of her career, she served as the company's marketing executive, president of consumer products, and as the company's chief risk officer. She was named to Fortune magazine's 50 Most Powerful Women in Business for nine consecutive years and cited by Forbes and The Wall Street Journal as one of the leading women in business.
"The EC Scholars program is critical to the continued success and growth of the ECU Honors College," Robert Brinkley said. "When I was on the Board of Trustees and helped to envision the Honors College, the idea was to make sure that ECU is and will continue to be an attractive place for high-achieving young people who are seeking to be challenged academically."
The Brinkleys have been avid champions of ECU, supporting the EC Scholars program, Honors College, Access Scholarship program and athletics.
"I received an outstanding education at ECU and feel like it prepared me extremely well for life," Brinkley said. "The university is also a very good steward of its public and private funding. Amy and I firmly believe that ECU deserves our support."
Pat Lane is a College of Business accounting graduate and earned an MBA from UNC Greensboro. He is a retired CPA. He has served on the College of Education advisory board, alumni association board of directors, L.T. Walker Human Performance Center advisory board, music advancement council, Pirate Club executive committee, and as a Pirate Club Circle of Excellence executive director.
Lynn Lane has served as chair of the ECU Foundation Board of Directors and is currently chair of the Honors College Advancement Council. She is also a 2001 ECU Honorary Alumni Award recipient.
"Higher education is our top priority for giving back to society," Pat Lane said. "Specifically, we believe that the Honors College and its scholars program in particular serve to attract and develop students who will become professionally successful and whose success will significantly shine a bright light on the impact that ECU has on society as it fulfills its mission."
The Lanes have been steadfast proponents of ECU, supporting the EC Scholars program, Honors College, College of Education, College of Fine Arts and Communications, Medical and Health Sciences, Pirate Club and alumni association. They are both in the Educators Hall of Fame.
The investment from the Brinkleys and Lanes will immediately increase the award for each scholar from $64,000 to more than $75,000.
"Based on what we have experienced with the scholars, increasing their scholarships to the full cost of attendance is a compelling opportunity for us to help move the scholars program forward to be even more competitive with its peer universities," Lynn Lane said.
The Brinkley-Lane Scholars program is offered to the top students in the entering freshman class and is granted for a total of eight continuous semesters. The program ensures full cost of attendance for all scholars, which will be competitive among the best scholarships across the state and allows ECU to recruit out-of-state students as well.
Photo: ECU Chancellor Philip Rogers, center, with Robert and Amy Brinkley, left, and Patrick and Lynn Lane, right, announced the ECU Scholars program is being renamed the Brinkley-Lane Scholars program.
Rhett Butler/ECU News Services