$25 million from Cici and Hyatt Brown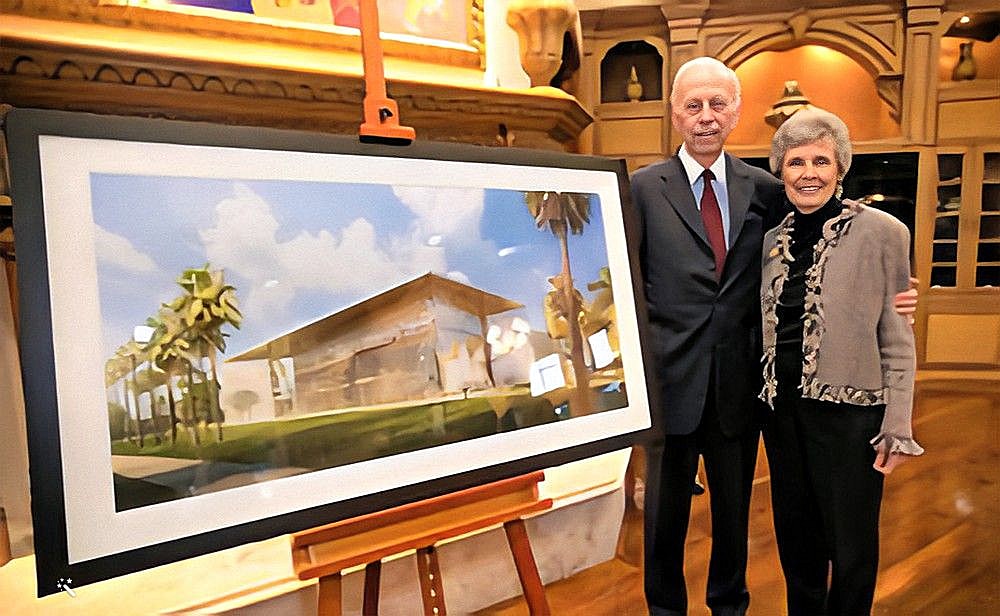 Philanthropists Cici and Hyatt Brown have pledged $25 million to Embry-Riddle Aeronautical University –to help the university create a revolutionary new business makerspace focused on high-paying jobs for Floridians.
The $25 million pledge from Cici and Hyatt Brown represents the single largest gift in the history of Embry-Riddle Aeronautical University, which was established in 1926.
"Cici and I are excited to make this investment to help continue the growth and development of institutional excellence at Embry-Riddle Aeronautical University," Hyatt Brown said. "Our focused mission, now and in the future, is economic enhancement of entities in Volusia County that positively affect the quality of life for all our citizens. Embry-Riddle Aeronautical University and other fine academic institutions are economic growth engines that augment and embellish local median family incomes."
The new Cici and Hyatt Brown Center for Aerospace Technology will build upon the game-changing wins of Embry-Riddle's five-year-old Research Park, by promoting even more innovation and creating high-quality jobs while bolstering Florida's advanced technology workforce.
"Everyone at Embry-Riddle is deeply grateful for the vision and phenomenal generosity of Cici and Hyatt Brown," said the university's Board of Trustees Chairman Mori Hosseini, who also serves as chairman and CEO of ICI Homes. "Their selfless investment in our community and the Embry-Riddle mission of education will inspire us for many years to come. The creative ecosystem of Embry-Riddle's Research Park stimulates transformative ideas, which drive economic progress and generate lucrative career opportunities. The new center, made possible by Cici and Hyatt Brown and the State of Florida, will take Embry-Riddle's already successful economic development efforts to a whole new level."
In 2021, Embry-Riddle's Research Park generated $137 million in total economic impact in Florida – up nearly 50% compared with 2019 — an independent economic assessment concluded. Through its mission of education, Embry-Riddle is also building Florida's workforce capacity in critical sectors, including aviation, aerospace, and STEM-related fields. Since the 2017 opening of the Research Park's cornerstone facility, the "MicaPlex" (John Mica Engineering and Aerospace Innovation Complex), Embry-Riddle's Research Park has directly created more than 120 jobs with an average salary of more than $78,000, thanks to some two-dozen affiliated companies. Since those jobs, in turn, support additional business enterprise, Embry-Riddle's Research Park supports a total of 700 jobs, both directly and indirectly.
"The new Center for Aerospace Technology will further elevate our highly effective Research Park," said Embry-Riddle President P. Barry Butler, Ph.D. "From the beginning, the Research Park has enhanced educational opportunities for our students by pairing them with entrepreneurs from all over the world. Our uniquely collaborative research environment has supported both emerging and established companies, and we are bolstering the state's workforce across aviation, aerospace, cybersecurity, commercial space and many other STEM-related fields. Cici and Hyatt Brown and the State of Florida have placed their faith in Embry-Riddle's ability to make good things happen. We are tremendously thankful for, and motivated by, their support."
Encompassing a total of 105,000 square feet, the Center for Aerospace Technology will include a 65,000-square-foot building and 40,000 square feet of research-quality hangar space. The building will include makerspace as well as room for entrepreneurial activity. Plans for the new center are now under development. The university expects to break ground in summer 2022. Additional timeline details will be released as information becomes available.
"Embry-Riddle's Research Park has succeeded in promoting innovation and job growth," said the university's Chief Operating Officer and Senior Vice President Rodney Cruise. "The new center will provide us with yet another way to effectively partner with, and support, businesses. By being in our Research Park – an integral part of campus – companies can much more easily win the battle for highly skilled talent – from interns to engineers."