$10 million gift from Reed Hastings and Patty Quillin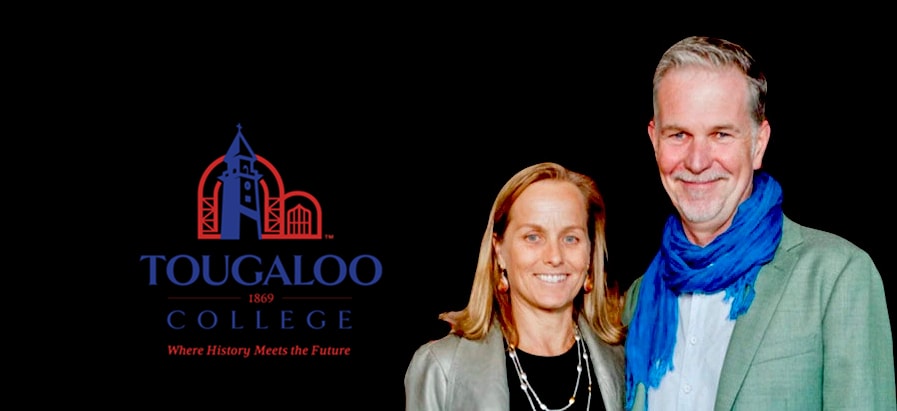 A $10 million gift from Netflix CEO Reed Hastings and documentary film producer Patty Quillin will provide a major boost in scholarship support for students at Tougaloo College, a historically Black college in Tougaloo, Mississippi.
The gift will fund much-needed financial aid for Tougaloo students working toward careers in medicine, public health, the sciences, education, business and other fields and aspiring to make a positive impact on their communities after graduation. It will also support Tougaloo students participating in a unique and enduring 58-year-old partnership between Brown and Tougaloo, which has connected generations of students, faculty and staff from both institutions through academic exchanges, fellowships, research projects and other initiatives.
Hastings and Quillin, a California-based couple who are longtime champions of equity in education, have supported Historically Black Colleges and Universities (HBCUs) with multiple gifts over time, driven by the outsize role that HBCUs play in educating Black leaders who make a positive impact in a wide range of professions.
"HBCUs have been vastly undervalued for a long time," Hastings and Quillin said. "They have an incredible track record of graduating so many Black leaders across the U.S. — doctors, lawyers, engineers and more. By investing in the extraordinary students who attend Tougaloo and Brown, we're investing in America's future."
Of the total gift, $5 million will go to Tougaloo College to bolster the school's endowment and provide annual scholarship funding that directly supports high-achieving students with high financial need.
"The remarkable personal gift to the historic Brown-Tougaloo Partnership from philanthropists Reed Hastings and Patricia Quillin will transform the lives of Tougaloo College students," Tougaloo president Walters said. "This donation, setting a new precedent as the largest gift to the Brown-Tougaloo Partnership, is a living testimony to their strong belief in the value of giving, the value of education and the value of HBCUs. This transformative gift is a life-changing opportunity for our students, and the impact will be far-reaching."
The remaining $5 million will establish the Brown-Tougaloo Partnership Scholarship Fund as part of Brown University's endowment. The fund will provide annual support for Tougaloo students who come to Brown as part of the partnership, whether to pursue a graduate or medical degree or an academic exchange program.
"Brown and Tougaloo share a deeply held commitment to preparing graduates to make a positive impact in their communities," said Brown President Christina H. Paxson. "Our shared ideals serve as an unbreakable foundation for a 58-year-old partnership that has yielded important insights for students and scholars, infused both campuses with new perspectives and provided life-changing experiences for Tougaloo and Brown students. This generous gift from Reed Hastings and Patty Quillin ensures that this truly one-of-a-kind partnership will continue to expand for many decades to come."
The gift from Hastings and Quillin is the largest philanthropic commitment to the longstanding Brown-Tougaloo Partnership, which began in 1964 during the Civil Rights Movement.
Fifty-eight years later, the agreement has grown into a strong, multifaceted partnership offering opportunities for student and faculty academic exchanges and collaborative research ventures. Since its inception, more than 760 Tougaloo and Brown students and faculty have participated in the program. Undergraduate participants spend time learning on the respective campuses, faculty build research collaborations, and Tougaloo graduates pursuing medical careers come to Brown's Warren Alpert Medical School through an early-identification program. Most recently, Brown's School of Public Health created a Health Equity Scholars program, which each year admits an exceptional cohort of Master of Public Health Students from Tougaloo and other HBCUs.
The new Brown-Tougaloo Partnership Scholarship Fund enabled by the gift will ensure that participating Tougaloo students have access to myriad academic and fellowship opportunities at Brown. With an estimated initial annual payout between $200,000 and $250,000 (a number expected to grow over time) the fund will have the capacity to support a range of Tougaloo students with costs ranging from tuition for pursuing graduate or medical studies at Brown to undergraduate semester exchange programs.
"For as long as I can remember, I wanted to be a medical doctor, and I want to serve my community by providing health care in underserved communities," Williams said. "The program afforded me opportunities to study at Brown for a semester, meet and experience people of different cultures, and gain an invaluable structured introduction to the elements of rigor and expectations toward the world of medical school. This program opened doors for me that I did not know existed."
Patty Quillin (left) and Reed Hastings (right) have supported Historically Black Colleges and Universities with multiple gifts over time. Photo: Drew Altizer Photography