$10 million gift from Mark and Kathy Richardson for scholarships at Clemson U.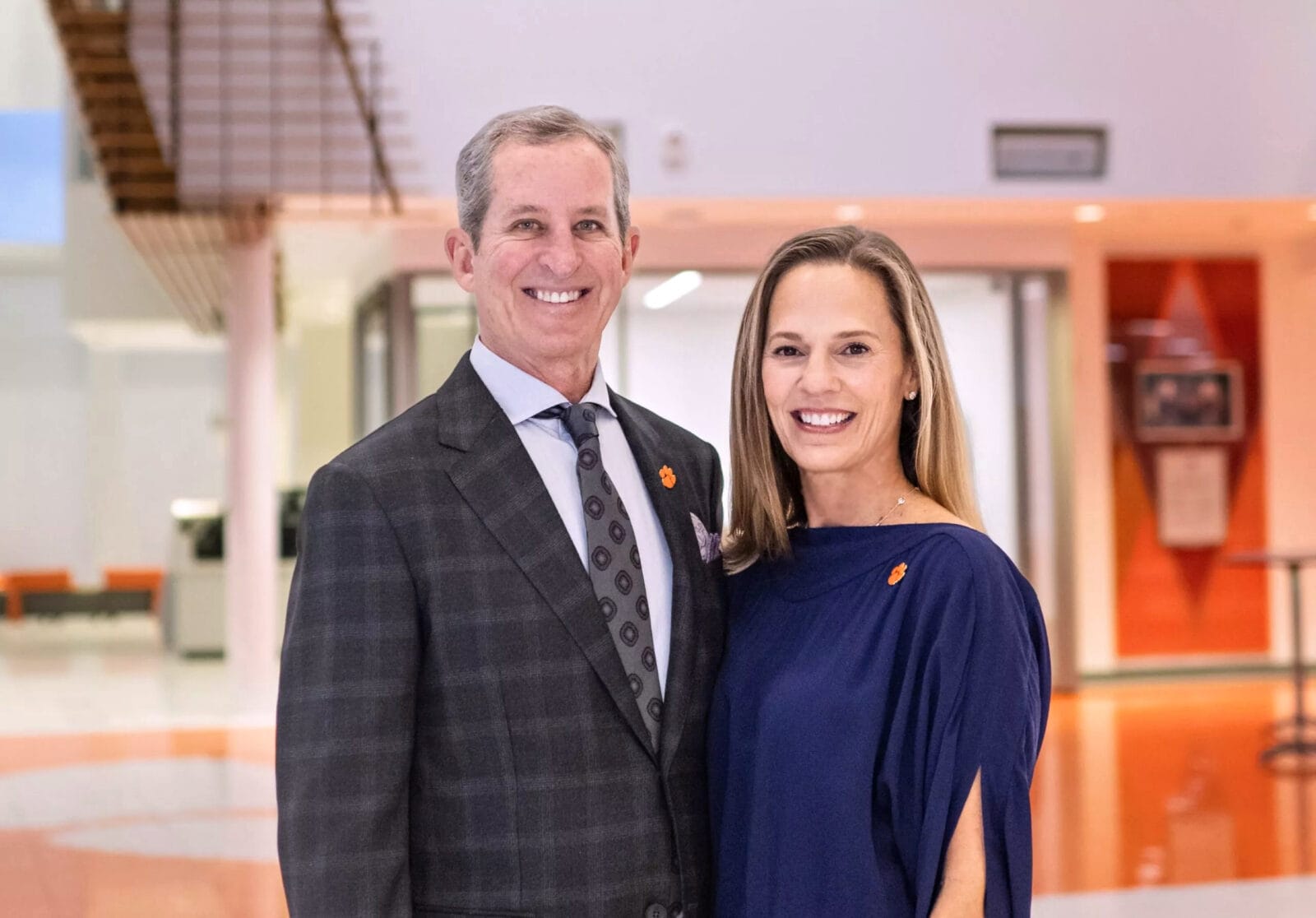 Mark and Kathy Richardson have announced a $10 million gift to support scholarships for Clemson University students.
Every year, a new group of young people with new dreams arrives on the Clemson campus looking for their next home — the place that will build the momentum for their journey forward. To bring these top students to Clemson University, scholarships are crucial, as is support from the Clemson Family.
Mark and Kathryn Richardson understand and appreciate the significant role supporters like them can play. They are passionate about the power of education. And they are particularly passionate about paving a path for future generations to have access to educational opportunities at Clemson University.
As they continue to fill in the missing pieces for students who may lack access to Clemson, the Richardsons are making a transformational gift of $10 million to support scholarships for Clemson students. With this gift, they become Clemson University's newest Academic Cornerstone Partner.
Mark Richardson, a 1983 Clemson graduate, former 1981 National Championship Football team athlete, University trustee and a successful businessman, and Kathryn Richardson, an Elon University graduate who loves being an honorary member of the Clemson Family, know how a college degree can forever impact a student's life. They have seen it firsthand through their support of scholarships and programs that pave a path to Clemson and help alleviate students' uncertainty and stress throughout their four years.
"Mark and Kathryn Richardson's transformational $10 million dollar gift to Clemson University will increase access to education for generations of future Tigers," Clemson University President Jim Clements said. "The Richardson's believe in the power of an education and know the impact a college degree has on students, families and entire communities.
Through their gift, the Richardsons are also challenging the Clemson Nation to contribute to the success of our students through the Champions 4 Access to Education challenge, and we know our community will step up in a big way. We are incredibly grateful for Mark and Kathryn Richardson's generosity and for all they have done and continue to do for Clemson University."
Their $10 million gift — the largest gift to Clemson University from a former student-athlete—will support general scholarships, the Wilbur O. and Ann Powers College of Business, projects and programs within the College of Education that strengthen teacher retention, and several crucial programs across Clemson that increase access to education and enhance students' Clemson Experience: Emerging Scholars, Call Me MiSTER® and ClemsonLIFE. The couple is also providing significant support to general scholarships and have created a challenge for the Clemson Family to expand their impact.