$50 million gift to ROM from the Hennicks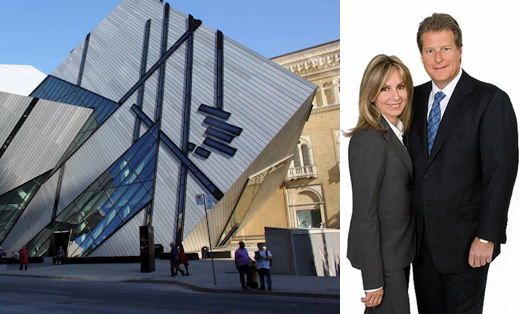 The Royal Ontario Museum (ROM) in Toronto announced a $50 million gift from the Hennick Family Foundation – the single largest cash gift in the Museum's history. The gift supports a multi-year revitalization plan intended to advance ROM's vision as Canada's world Museum to be a welcoming and inspirational focal point of cultural and community engagement.
"ROM is committed to becoming ever more central to people's lives by creating an uplifting and inspiring environment that engages visitors and brings people together," said Josh Basseches, ROM's Director & CEO. "Physical and programmatic enhancements are required as we evolve into a 21st-century museum, and I look forward to sharing more about this transformation in the coming months. Today, I want to acknowledge that this truly visionary gift from the Hennick Family Foundation comes at a critical time as we collectively reemerge from the pandemic to rebuild our cities and restore the social and cultural fabric of our communities."
"We cannot think of a better way to support the revitalization of civic life in Toronto and Ontario than to support the Royal Ontario Museum's new vision," said Barbara and Jay Hennick, "which promises to transform iconic spaces and the way we experience art, culture and nature for generations to come."
John Kearsey, President & CEO of ROM Governors, the Museum's philanthropic arm, enthusiastically stated that "The Hennick Family Foundation is enabling us to offer a more inclusive space for people to learn, exchange ideas, and share different points of view. Barbara and Jay Hennick are catalyzing this vision into action through their generosity, and we could not be more grateful. They have unlocked a profound opportunity for the philanthropic community to come together to create once-in-a-generation change."
A York University sociology and University of Ottawa law graduate, Jay Hennick spent the first 13 years of his career practicing corporate law with a large Toronto law firm. Today Mr. Hennick is the Chairman and Chief Executive Officer and controlling shareholder of Colliers International Group Inc., one of the largest commercial real estate services companies in the world and operations in 38 countries around the world. Mr. Hennick is also the Founder,  Chairman and controlling shareholder of FirstService Corporation, North America's largest residential property management and property services companies.
In 1998, Mr. Hennick was named Canada's CEO of the year by Canadian Business Magazine. In 2011, he received an Honorary Doctorate of Laws from York University and in 2014 he received the same honour from the University of Ottawa. Mr. Hennick is also the Founding Chairman of Sinai Health System, a merger of Mount Sinai Hospital, Bridgepoint Active Healthcare, Circle of Care and the Lunenfeld Tanenbaum Research Institution, all of Toronto. Prior to the merger, Mr. Hennick served as the Chairman of Mount Sinai Hospital in Toronto.
Barbara Hennick is a chartered accountant who has used her expertise in financial accounting and analysis to assist numerous charitable organizations over the years, including Mount Sinai Hospital Auxiliary and the Crohns & Colitis Foundation of Canada.