$30 million gift to Cleveland Clinic establishes the Morton L. Mandel CEO Chair and the Morton L. Mandel Innovation Fund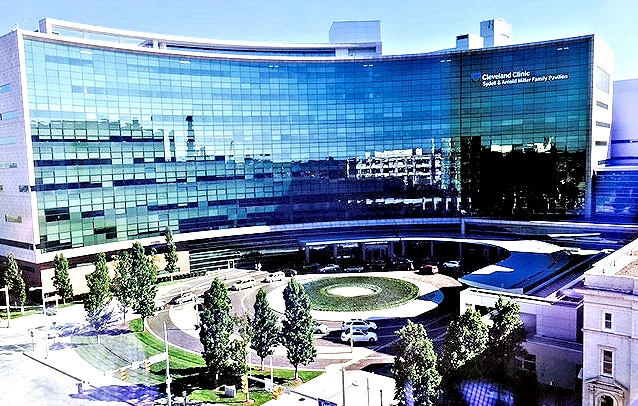 Cleveland Clinic will receive a gift of $30 million from the Jack, Joseph and Morton Mandel Foundation that will have a significant impact on leadership and innovation for years to come, as well as honor the legacy of Morton L. Mandel at the highest level of Cleveland Clinic leadership.
The gift will endow the position of Cleveland Clinic's Chief Executive Officer and establish an endowed fund for innovation.
The Foundation announced that it will solely associate the name of Mort Mandel,  on these new endowments – the Morton L. Mandel CEO Chair will be added to the title of the Cleveland Clinic CEO position. The innovation fund will be named the Morton L. Mandel Innovation Fund.
The inaugural holder of the endowed position is the current Cleveland Clinic CEO and President, Tom Mihaljevic, M.D.
Funds drawn annually from the Mandel Innovation Fund endowment will be available to the CEO to help develop innovative ideas that impact the communities served by Cleveland Clinic. Funds will help support the CEO's vision and advance priorities important to that vision.
"Providing outstanding medical care, developing innovative ideas and training the leaders of the future are three elements at Cleveland Clinic that were extremely important to Mort and remain extremely important to the Foundation," said Jehuda Reinharz, Ph.D., President and Chief Executive Officer of the Jack, Joseph and Morton Mandel Foundation. "We feel this gift will continue to support those efforts at Cleveland Clinic."
The Foundation's generous gift recognizes Mr. Mandel's interest in innovation and providing support to leaders to foster innovative ideas, and his belief that strong leaders who are lifelong learners drive organizational growth and societal change.
"This gift gives a tool to the CEO of Cleveland Clinic to be able to spark innovation.  We think that's a big part of leadership," said Stephen H. Hoffman, Chairman of the Board of the Jack, Joseph and Morton Mandel Foundation. "We're giving the CEO the resources to put muscle behind his or her leadership in innovation, now and in the future."
As part of his legacy, Mr. Mandel's name will be associated with the CEO of Cleveland Clinic, which is consistently ranked a top hospital in U.S. News & World Report's annual "America's Best Hospitals" survey.
The gift also recognizes the friendships Mr. Mandel had with Dr. Mihaljevic and his predecessor, Toby Cosgrove, M.D.
"We are deeply appreciative of this latest gift from the Jack, Joseph and Morton Mandel Foundation," said Dr. Mihaljevic. "Mort was an innovative leader, generous philanthropist and dear friend who left an incredible legacy at Cleveland Clinic and beyond. I am humbled and honored to be the inaugural holder of the Morton L. Mandel CEO Chair."
Previous gifts from the Mandel Foundation during the leadership tenures of Dr. Mihaljevic and Dr. Cosgrove include funds directed to Cleveland Clinic's urology department and a $23 million gift to the Global Leadership and Learning Institute, now named for Jack, Joseph and Morton Mandel.
Cleveland Clinic is a nonprofit multispecialty academic medical center that integrates clinical and hospital care with research and education. Located in Cleveland, Ohio, it was founded in 1921 by four renowned physicians with a vision of providing outstanding patient care based upon the principles of cooperation, compassion and innovation.
Cleveland Clinic has pioneered many medical breakthroughs, including coronary artery bypass surgery and the first face transplant in the United States. U.S. News & World Report consistently names Cleveland Clinic as one of the nation's best hospitals in its annual "America's Best Hospitals" survey.
Among Cleveland Clinic's 70,800 employees worldwide are more than 4,660 salaried physicians and researchers, and 18,500 registered nurses and advanced practice providers, representing 140 medical specialties and subspecialties. Cleveland Clinic is a 6,500-bed health system that includes a 173-acre main campus near downtown Cleveland, 19 hospitals, more than 220 outpatient facilities, and locations in southeast Florida; Las Vegas, Nevada; Toronto, Canada; Abu Dhabi, UAE; and London, England.
In 2020, there were 8.7 million total outpatient visits, 273,000 hospital admissions and observations, and 217,000 surgical cases throughout Cleveland Clinic's health system. Patients came for treatment from every state and 185 countries
Jack, Joseph and Morton Mandel established their first foundation in their hometown of Cleveland, Ohio. Their philanthropic legacy is continued through the Jack, Joseph and Morton Mandel Foundation and the Jack, Joseph and Morton Mandel Supporting Foundation.
The work of the Foundations is grounded in the belief that exceptional leaders, inspired by powerful ideas, are key to improving society and the lives of people around the world.
The Foundations have identified five areas of engagement that receive support, which include: leadership development, management of nonprofits, humanities, Jewish life, and urban engagement.