$30 million gift for undergraduate research and scholarships from Irene Piscopo Rodgers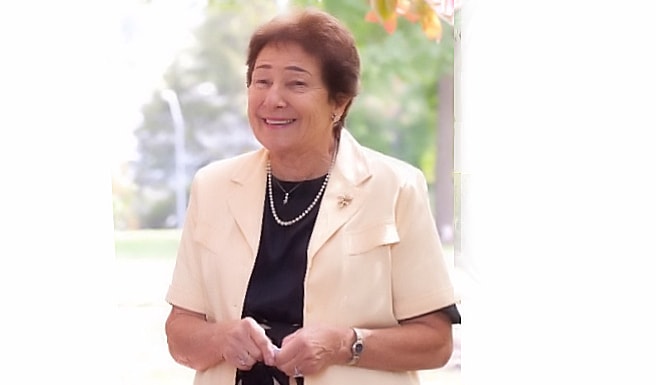 The University of Mary Washington has received a $30 million gift – the largest in the institution's 115-year history – from Irene Piscopo Rodgers.
Rodgers made a name for herself in the field of electron microscopy and helped pave the way for UMW graduates, especially women, to excel in STEM subjects of their own choosing. Mary Washington, as she often said, had "opened worlds" for her.
Now, this generous gift – along with others that Rodgers made through the years – will carry on her legacy by helping the University prepare young scholars for successful careers in science, technology, engineering and math for decades to come.
"Students who benefitted from Irene's generosity welcomed her into their lives, so she was able to observe firsthand the transformative power of her gifts," said UMW President Troy Paino. "This unprecedented donation guarantees that exceptional students will continue to have access to a UMW education that delivers the kind of high impact learning experiences that Irene valued so much."
Rodgers' gift will grow UMW's undergraduate research program, Paino said. Students in the fields of biology, chemistry, physics, Earth and environmental sciences, computer science and math will have even more opportunities to explore their research interests throughout the academic year and at the University's Summer Science Institute, working alongside faculty mentors. Mary Washington also offers undergraduate, graduate and accelerated pathways for students aspiring to study law, medicine, engineering, conservation biology, pharmacy, accounting, and business analytics through agreements with partner institutions.
The gift also supports the creation of four new Alvey Scholarships, providing full tuition, fees, and room and board for out-of-state undergraduate students for up to four years, in addition to the eight Alvey Scholarships that Rodgers already created.
To date, 85 students have earned awards through Rodgers' generosity, including 15 Alvey Scholarship recipients and 28 research fellowships, funded by Rodgers. Seven students received other scholarships and 35 students received scientific presentation grants for conference travel, also established by Rodgers.
The funding will be offered to the most promising students, said UMW Provost Tim O'Donnell, and ensure that Mary Washington graduates will continue to be highly prized by employers and graduate schools.
UMW student Boramy Meng works with the transmission electron microscope Irene Piscopo Rodgers gifted to Mary Washington in 2004. Having made a name for herself in the field of electron microscopy, Rodgers trained UMW faculty and students to use the instrument.Student Kristine Dadufelza works in UMW's Jepson Science Center with the electron microscope gifted to the University by Irene Piscopo Rodgers.Professor of Chemistry and chair of the Department of Chemistry and Physics Janet Asper (right) works with senior chemistry major Dorothy Haas in Experimental Methods, a course that has students separating and identifying the molecules within a mixture.
Through the years, Rodgers' generous gifts to her alma mater have bolstered students' pursuit of science.UMW's recently renovated Jepson UMW's recently renovated Jepson Science Center connects classrooms to labs and offers sophisticated instruments to enhance undergraduate research, including an electron microscope gifted to the University by Irene Piscopo Rodgers.
"This gift will be transformational for UMW, establishing us as one of the premier institutions in Virginia, indeed in the country, for undergraduate STEM research," O'Donnell said. "The mentored experiences the University will be able to offer will be unparalleled. I don't know of another institution, regardless of size or mission, with such a focused investment."
Rodgers earned a bachelor's degree in chemistry from what was then known as Mary Washington College of the University of Virginia, followed by a master's degree in chemistry from the University of Michigan. She worked for the American Cyanamid Company and Philips Electronic Instruments, where she met her husband, James "Don" Rodgers, who hired her at a time when there were few women scientists in her field.
Attending Mary Washington had been a game-changer for Rodgers, whose appreciation has been acknowledged through her philanthropy and donations to her alma mater for more than 40 years, beginning with a $50 gift in 1980.
In 2004, she donated a transmission electron microscope to Mary Washington and trained students and faculty to use it. A decade later, UMW presented Rodgers with an honorary Doctorate of Humane Letters for her service and contributions to the institution. She also named a microscopy lab and several Alvey Scholarships after her late parents, Justin and Helen Piscopo. This gift, in combination with gifts made during her lifetime, brings her total giving to Mary Washington to nearly $39 million.
Rodgers received an honorary Doctor of Humane Letters degree during the University of Mary Washington's 2014 Commencement ceremonies. Her $30-million gift will exponentially grow UMW's undergraduate research program, said President Troy Paino.Rodgers rides the trolley with fellow members of Mary Washington's Class of 1959 at the 2017 Mary Washington Reunion. Rodgers kept in touch with her alma mater and with many of the recipients of her funding.
"The University is so grateful to have been the beneficiary of Irene's generosity during her lifetime and now as a lasting part of her legacy. This gift was made possible through relationships built over decades by numerous members of the Mary Washington community," said UMW Vice President for Advancement Katie Turcotte. "Everyone who knew Irene knows how much she loved Mary Washington and helping our students pursue opportunities to conduct research."
Rodgers often kept in close touch with her previous recipients, following their successes through graduate school and beyond.
Hannah Checkeye '21, who also earned an Alvey Scholarship and is now a graduate student at The George Washington University School of Medicine, said Rodgers "paved the way" for her and other women in the sciences.
"Irene made it possible for me to go to Mary Washington and complete my pre-medical education," Checkeye said. "She changed the lives of so many students."