$250 million gift to U of T by James and Louise Temerty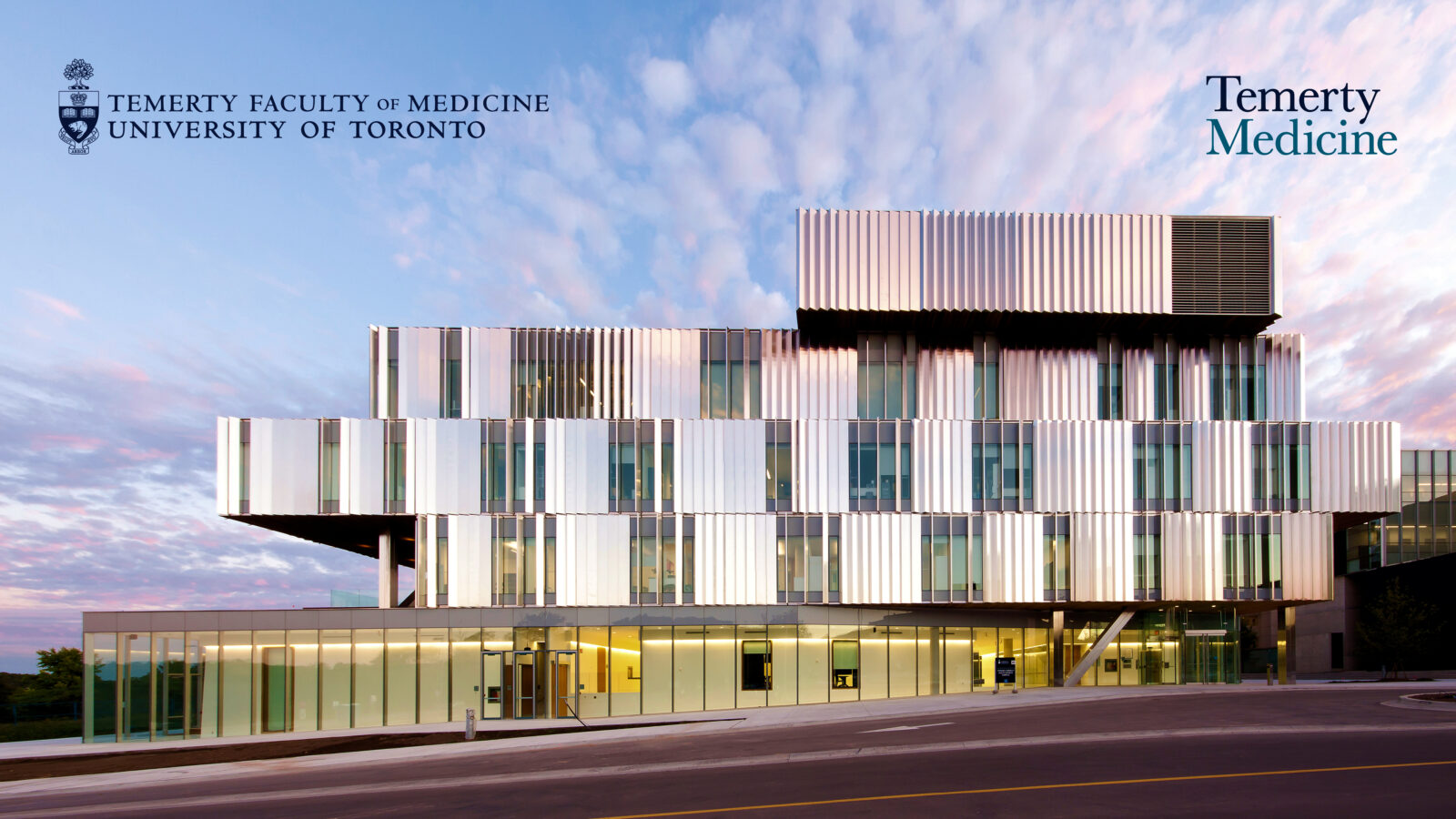 A $250-million gift will support discovery, collaboration, innovation, equity and student well-being across the University of Toronto's Faculty of Medicine and its affiliated hospital network, advancing its leadership as a global centre of excellence in human health and health care.
The transformational gift from the Temerty Foundation, established by James and Louise Temerty, will support advances in machine learning in medicine; biomedical research and collaboration across Toronto's health-science network; innovation, commercialization and entrepreneurship; equity and accessibility in medical education; and the creation of a new state-of-the-art Faculty of Medicine building for education and research.
In gratitude for this extraordinary benefaction, the university's Faculty of Medicine will be named the Temerty Faculty of Medicine. The Faculty of Medicine is widely regarded as Canada's finest and among the world's best, ranked sixth in clinical medicine and health sciences by the highly respected Times Higher Education World University Rankings.
"James and Louise Temerty's gift marks the start of a new era," said U of T President Meric Gertler. "It lifts Canadian philanthropy to an unprecedented level of vision and generosity. And it propels U of T's globally renowned Faculty of Medicine and hospital partners to a position of even greater scientific and clinical leadership in tackling today's – and tomorrow's – greatest challenges in human health care.
"Arriving amidst a global health crisis, the Temerty family's generosity is truly a gift of hope – hope for what we can achieve together, long after the present crisis has passed, in the comprehensive advancement of human health and health care in the Toronto region, across Canada and around the world," President Gertler continued. "On behalf of the entire University of Toronto, I would like to offer our deepest gratitude to the Temerty Foundation – to James and Louise Temerty, and to Leah Temerty-Lord and Mike Lord – for their leadership."
"I would like to thank James and Louise Temerty for their incredible investment in U of T Medicine," said Trevor Young, dean of the Faculty of Medicine and vice-provost, relations with health care institutions. "Their gift will touch every aspect of our programs, impacting education, research and clinical care across the region and around the globe. It will allow us to respond nimbly to exciting research and partnership opportunities as they arise and lead the way to big medical breakthroughs. It will help us to offer innovative physician training, which will lead to the very best patient care. Ultimately, it will elevate the Faculty's international standing among the world's greatest faculties of medicine."
Founded in 1997 by James and Louise Temerty, the Temerty Foundation has provided significant philanthropic support to health care, education and culture in Toronto and beyond. In the health-care space, their contributions have established the Temerty Centre for Therapeutic Brain Intervention at the Centre for Addiction and Mental Health, the Louise Temerty Breast Cancer Centre at Sunnybrook Health Sciences Centre, and the world's first international tele-simulation centre in medical education at University Health Network. These institutions are part of the Toronto Academic Health Science Network (TAHSN), the unparalleled network of research, teaching and community hospitals and health-care centres that U of T anchors. The Temerty Foundation's gift to U of T leverages its previous giving and expands its impact across the network.
"We were motivated to help the University of Toronto do what it does best – elevate quality health care and ultimately help as many Canadians as possible," said James Temerty. "Our hope is that this gift will further Toronto's and Canada's global leadership in providing the highest quality health care and help to address the most pressing health challenges. We are honoured to be doing our part by partnering with the University."
"This is truly a landmark moment in the history of Canadian philanthropy," said David Palmer, vice-president, advancement. "Their generosity, and our gratitude, will resound in us forever, and in the hearts of countless individuals across the world who will benefit from the advances in human health and health care enabled by this magnificent gift. Canada is fortunate indeed to have such remarkable individuals as Jim and Louise Temerty, so selflessly dedicated to improving the lives of others."
The Temertys are noted philanthropists and volunteers, and are both recipients of the Queen Elizabeth II Diamond Jubilee Medal for service to their community. Between them, James and Louise have five honorary doctorates, and through the Temerty Foundation, they have supported a number of endowments and scholarships in Canada and abroad. In addition to the health-care initiatives described earlier, they have established the Temerty Chair in Focused Ultrasound Research, and the Surgical Training Partnership with Ukraine at Sunnybrook Research Institute; the Temerty Foundation RGNEF Research Fund for ALS at Western University; and the Ukrainian Paediatric Fellowship Program at The Hospital for Sick Children. They are also donors to the Royal Ontario Museum, the Royal Conservatory of Music, the Canadian Museum for Human Rights, and Help Us Help. In 2008, James, with Louise's encouragement, founded the Ukrainian Jewish Encounter (UJE), a multinational project that aims to build a sound foundation for future interaction among Ukrainians and Jews.
In 2008, James was appointed a Member of the Order of Canada, in 2010, he was named Canada's Entrepreneur of the Year by Ernst & Young, and in 2015, he was honored with Ukraine's Order of Prince Yaroslav the Wise, which is the highest tribute Ukraine can confer to a foreign citizen who has not been a head of state.