$25 million to Tampa Museum of Art from Corbetts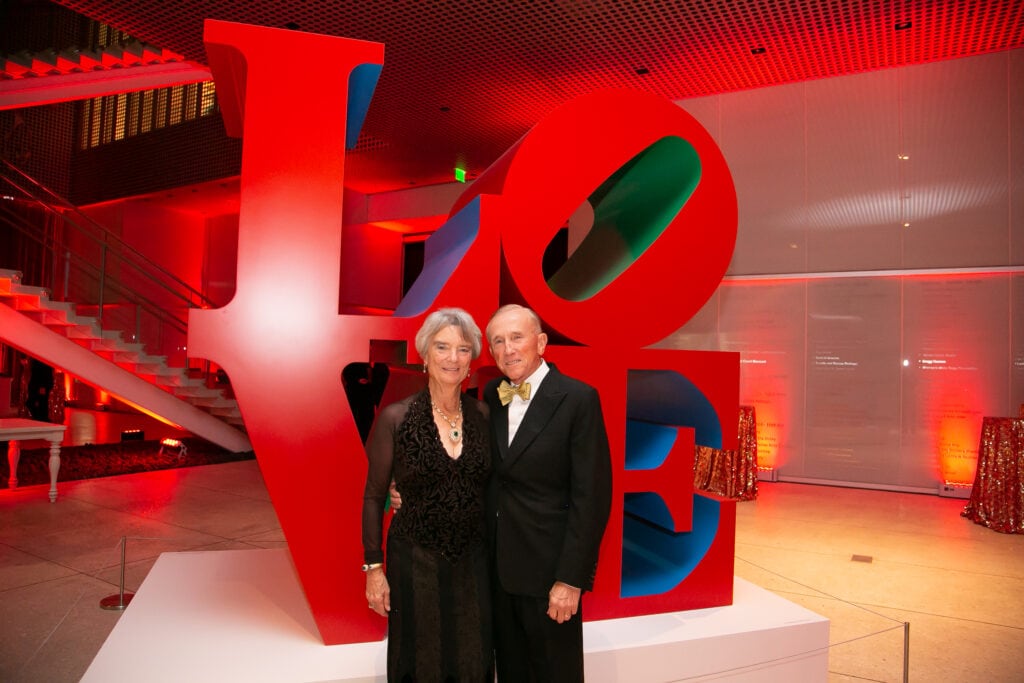 The Tampa Museum of Art has received a landmark $25 million donation from Dick Corbett as the lead donation to the Museum's Centennial Capital Campaign for Renovation and Expansion, which began during its 100th anniversary celebration in 2020.
"This extraordinary gift to the Museum contributes a historic $25 million cash gift to our campaign for the Museum's expansion. It will allow us to grow our overall area from 69,000 to 120,000 square feet and expand our exhibition and collections space from 14,800 square feet to 43,000 square feet. It will also more than triple available event space, add public restaurant and retail store space as well as a 10,000-square-foot Education Center, allowing us to serve 24,000 Hillsborough County school students annually," said Michael Tomor, Ph.D., the Penny and Jeff Vinik Executive Director of the Tampa Museum of Art.
"This gift from Dick Corbett makes history in Florida's art community because it constitutes the single largest private donation ever made to a public art museum and art education center in this state," Tomor added, noting that although there have been other large donations made to museums in Florida, those have been in the form of part cash-part collections of art.
"This generous donation is unique because it is a stand-alone cash contribution to our capital campaign," Tomor explained.
"The Tampa Museum of Art strengthens arts and culture in our vibrant city, and opens the eyes of schoolchildren to the power of beauty and imagination. I am proud to make this historic gift to TMA in celebration of their centennial anniversary. My hope is that it will encourage others who have the means to give back to also join in and support the growth of the Museum's world-class exhibits and programs," said Dick Corbett.
"Dick and Cornie Corbett have been extraordinary patrons and supporters of the Tampa Museum of Art for decades," according to Jerry Divers, chair of the Tampa Museum of Art Foundation and head of the Museum's Centennial Capital Campaign. Divers added: "Our community is blessed by so many other significant gifts and legacy projects developed and funded by Dick Corbett. His contributions have been bold catalysts for effective, broad-based public and private projects with lasting benefits for commercial development in Florida as well as on policies affecting K-12 education, growth management, economic development, agriculture and commercial real estate."
"Dick Corbett's generous donation to the Museum's Centennial Capital Campaign will allow us to move swiftly to complete the significant renovations already underway and to begin our transformative expansion project scheduled to break ground in the next eight to 10 months," according to Dianne Jacob, President of the Tampa Museum of Art Board of Trustees.
Dick Corbett has developed, financed, and constructed more than $1 billion in complex real estate ventures as chief executive officer and president of Concorde Companies, a Tampa-based real estate investment firm. His most ambitious and acclaimed achievement was conceiving, developing, and attracting funding for Tampa International Plaza and Bay Street shopping center adjacent to the Tampa International Airport. Tampa International Plaza is a 3-million-square-foot mixed-use retail, office, and hotel development that attracts more than 20 million visitors annually. Since its opening in 2001, it has generated thousands of permanent jobs, hundreds of new commercial businesses, including hotels and restaurants, as well as commercial offices that have contributed hundreds of millions of dollars annually to the Tampa Bay regional economy.
Together with his wife, Cornelia, the Corbetts have financially supported the Independent Day School for more than 40 years and served as Board of Trustee volunteer leaders. In 2012, the school was named the Corbett Preparatory School in appreciation of the work the Corbetts have done for the school.
In 2013, the Crisis Center of Tampa Bay dedicated the Corbett Trauma Center in honor of Cornelia. The facility expanded mental health counseling in eastern Hillsborough County by providing counseling services, group therapy, and other mental health support for children and families.
The same year, Dick and Cornelia Corbett were inducted as a couple into the Florida Council of Economic Education Hall of Fame, recognizing their impact on the community through business and civic achievements and how they serve as lifelong examples of integrity and high ideals.
In 2015, Dick Corbett made two high-profile gifts totaling $35 million to his alma mater, the University of Notre Dame. The pledge included $25 million to underwrite the construction of the Corbett Family Hall, a 280,000-square-foot academic building, and a $10 million endowment for the Notre Dame head football coaching position at the university.
Dick Corbett was appointed to consecutive terms on the Florida Fish & Wildlife Commission by Governors Jeb Bush and Rick Scott, including acting as Chairman of the FWC for several years. During that period, Corbett helped develop the Florida Youth Conservation Centers Network, jointly sponsored by the FWC and the Wildlife Foundation to help reconnect children with traditional outdoor activities. He continues to serve as chair emeritus of the Fish & Wildlife Foundation of Florida.
In his revealing biography, "Ringside Stories," Dick Corbett tells the fascinating story of his hard-knock youth from a fractured home in Rochester, NY, who overcame setbacks large and small to forge his long and remarkable career as a real estate guru.
"Life is precious – everyone gets exactly one," Corbett is fond of saying, which helps explain how a combination of perseverance and strategic thinking pushed him to be the best that he could be, and fuels his family's generosity toward their neighbors and community.
Photo: Cornelia and Dick Corbett at the Tampa Museum of Art