$25 million gift to ACU from Kay and Robert Onstead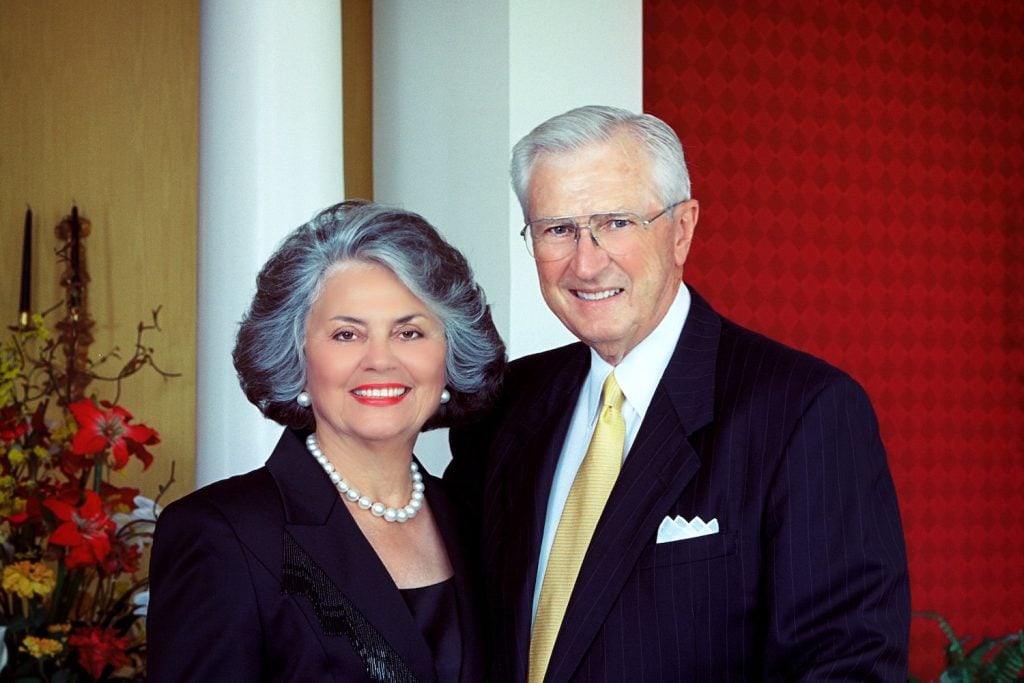 With goals of advancing higher Christian education and paving new pathways for students, Kay Onstead and her late husband Robert gifted the Abilene Christian University (ACU) $25 million, the fifth largest donation ever received in ACU's history. 
In honor of the Onstead's generous giving the school will establish the Robert and Kay Onstead College of Science and Engineering. This will mark ACU's first ever named college and will allow the couple's legacy of giving to live on at the school as they celebrate the Onstead's continued financial support of more than $59 million made throughout their lifetime.
In addition to the newly named college the $25 million gift will focus on accelerating growth and encouraging success through the establishment of an endowment, financially supporting students through new scholarships, assisting the college's dean in recruiting, maintaining and honoring model faculty members and advancing research at the school to encourage excellence in all facets. 
"We're entering a period of rapid acceleration of ACU's vision and growth in the sciences and engineering – from the strength of our faculty, the quality of our students and our expanded academic offerings, to the growing reputation of our research and the increased recognition ACU is receiving because of it," said provost and vice president for academic affairs, Dr. Susan Lewis. "This gift from Kay Onstead will accelerate the contributions ACU faculty, students and graduates can make to a wide array of real-world issues, including the development of clean, safe energy sources, the stewardship of sustainable agricultural and environmental systems throughout the world, research to identify new methods of diagnosing and treating disease, and so much more."
While neither of the Onstead's personally attended ACU, they attribute their desire to support the school to an outstanding meeting with a group of ACU alumni they met while at a church in Houston. The encounter so deeply impressed both Kay and Robert that they made the decision to send their own children to the school shortly after. They now have five grandchildren who have graduated from ACU and hope the family legacy continues.
"Bob and I were so impressed with the ACU graduates we met early in our marriage – we knew it must be a special place. Eventually, our own children attended ACU, where they made lifelong connections and built a strong foundation for their future," Kay said. "My hope is that this gift, honoring Bob's legacy, will transform the lives of students for decades to come. We love ACU!"
Robert, who was a trustee at the school for 26 years, and Kay established the Kay and Bob Onstead Ministers Progeny Endowed Scholarship, the Onstead Opportunity Endowed Scholarship and have been honored with namesakes including the Robert and Kay Onstead Distinguished Chair of Biblical Studies and the Onstead Science Center.
"The Onstead family's immense generosity has already reshaped the campus of Abilene Christian University and enhanced the experiences of thousands of students – myself included," said the ACU president, Dr. Phil Schubert. "This monumental new endowment propels us toward a bold vision for ACU's rise as a national research university. As we continue our pursuit of excellence, we remember that every blessing we enjoy is evidence of God's provision. The Onstead family has exemplified the convergence of faith and excellence and caused all of us to think more courageously about how God is calling us to be world-changers."
ACU's vision for the Robert and Kay Onstead College of Science and Engineering includes:
Enhancing the university's focus on science and engineering by joining together five existing departments.

Providing excellent undergraduate education in life and physical sciences for students in science, engineering, and mathematics programs, and through the general education program, which delivers at least nine credit hours from the college for all ACU undergraduates.

Growing and capitalizing on the demand for programs related to the disciplines of the college, delivering innovative programs that enrich students' lives and enable them to explore and prepare for related careers.

Enhancing the NEXT Lab as a center of ACU's funded research and investment of university resources into new facilities, and establishing its faculty and students as international leaders in partnerships with other scholars and government.

Exploring new opportunities for graduate education among strong disciplines where none currently exist.

Preparing undergraduate students for lives of Christian service and leadership, and supporting and preparing them to pursue graduate and professional school elsewhere, while continuing to grow ACU's graduate programs and, potentially, a medical school.