$204 million from Bloomberg to protect the ocean, coastal communities, and marine ecosystems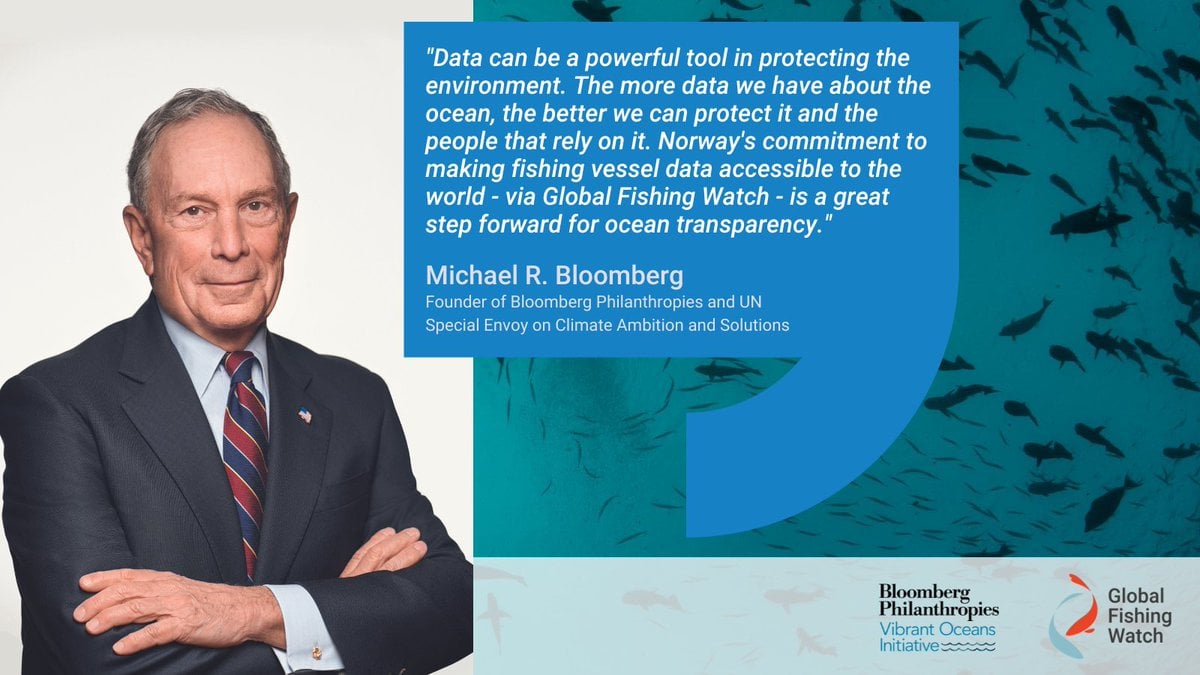 Bloomberg Philanthropies announced it is expanding its commitment to protect the ocean, coastal communities and marine ecosystems.
The Bloomberg Ocean Initiative will invest $204 million to leverage data-driven solutions, policy solutions, and community involvement to protect coral reefs, stop illegal fishing, and safeguard marine ecosystems and biodiversity that are at risk from the growing impacts of climate change.
The new commitment builds on Bloomberg's efforts to fight climate change and aims to spur meaningful ocean action 45 days ahead of this year's COP27, where Bloomberg will also sponsor one of the first-ever pavilions dedicated to showcasing the ocean's critical role in the fight against climate change.
"The health of the ocean is critically important to people's lives and livelihoods around the world. At Bloomberg Philanthropies, we've had success uniting conservation groups, local leaders, and national governments to protect the ocean. Now we're deepening and expanding that work with a major new investment," said Patricia E. Harris, CEO of Bloomberg Philanthropies.
"The more international partners and funders we can bring together, the faster we can reach the ambitious target of protecting 30% of the ocean by 2030 – and the faster we can strengthen communities that depend on the ocean every day."
"We can't begin to solve the climate crisis without considering the role of the ocean. Our ocean serves as an important climate regulator and a source of livelihood for one out of every 10 people in the world," said John Kerry, U.S. Special Presidential Envoy for Climate. "Conserving or protecting at least 30% of the global ocean by 2030 is crucial for meeting climate and biodiversity goals. The Bloomberg Ocean Initiative will help serve as a catalyst for scaling funding, solutions, and engagement on the challenges we face with ocean conservation."
The expansion will help countries and communities meet the global goal of protecting 30% of the ocean by 2030 (30×30) in some of the most biodiverse, climate-critical and economically important places around the world. To protect and defend the ocean, Bloomberg Ocean partners will advocate for science-based policies, work with communities to protect marine ecosystems, advance transparency at sea, strengthen coral conservation and tackle key threats like overfishing and pollution. Bloomberg Philanthropies will also spearhead efforts to dramatically increase private, public and philanthropic funding for ocean solutions and the communities that need them.
This latest funding announcement builds on Bloomberg Philanthropies' commitment towards and proven track record of restoring and protecting critical ocean ecosystems. Last year at the UN General Assembly, Bloomberg Philanthropies joined with other foundations and governments to commit a collective $5B to support the protection of 30% of land and sea by 2030. Today's announcement of the Bloomberg Ocean Initiative brings Bloomberg Philanthropies' investment towards ocean conservation efforts to over $364 million since 2014 resulting in significant strides to restore and protect critical ocean ecosystems. This includes over 100 new policies at the local and national level that have strengthened protection of 10.8 million square miles of ocean – nearly three times the area of the United States. The program has supported the work of leading partners Oceana, Rare, Global Fishing Watch, and the Wildlife Conservation Society (WCS) to enact new policies, protect coral reefs, and advance fishing vessel transparency. Bloomberg will continue to work with these organizations and begin working with new partners including Blue Ventures, Coral Vita, the Commonwealth Secretariat, the Global Fund for Coral Reefs, the Outlaw Ocean Project and National Geographic Pristine Seas to support its expanded efforts.
"As a peer and ally in the climate fight, it is a delight to see Mike Bloomberg and Bloomberg Philanthropies doubling down on their commitment to oceans," stated the United Nations Environment Program (UNEP) Executive Director Inger Andersen. "As we learn more about the oceans' critical role in global ecosystems, it has become clear we must turn our attention to conserving it as much as possible."
"We are too often told by loud voices that climate and environmental action is too costly, when in fact the cost of inaction is far, far greater," said Sam Teicher, Co-Founder & Chief Reef Officer of Coral Vita. "This is even more true for the threats facing the ocean, which for so many is treated as 'out of sight and out of mind.' This exciting commitment by Bloomberg Philanthropies not only will fund critically needed solutions to preserve the ecosystems that sustain us all, but hopefully will galvanize many others to get off the sidelines and into this fight for our lives by putting their considerable financial resources and political influence to work."
"Global Fishing Watch is increasing transparency in global fishing activity, in no small part because of the vision and generosity of Bloomberg Philanthropies," said Tony Long, CEO of Global Fishing Watch. "From Chile to Norway, we've built unprecedented partnerships with governments around the world, sharing their proprietary vessel tracking data on our public map to increase accountability and enforcement on the water. With Bloomberg Philanthropies, we can boost transparency to help end illegal fishing, protect marine ecosystems, and deliver fair and inclusive ocean management."
"For eight years, Bloomberg Philanthropies has been our partner in winning policy change to sustain the ocean's ability to feed people and to provide livelihoods, especially to small-scale fishers," said Andrew Sharpless, CEO of Oceana. "We have also worked together to protect important ocean habitats and to find ocean solutions to climate change."
"Our planet's ocean is in grave peril. So, too, are many coastal communities that rely upon healthy fisheries and vibrant marine ecosystems," said J. Charles Fox, Executive Director of Oceans 5, the world's leading marine funders' collaborative. "Bloomberg's commitment to ocean conservation is among the largest in history. It is designed strategically to tackle the biggest problems impacting coastal communities and the world's biodiversity. Mike Bloomberg's continued leadership effectively challenges all of us to strengthen our commitment to marine conservation. It is a remarkable gift at a crucial time for the world's oceans."
"At Pristine Seas we are excited to partner with Bloomberg's Ocean Initiative to help protect vital places in the ocean," said Enric Sala, National Geographic Explorer in Residence and founder of Pristine Seas. "We have been abusing the ocean for too long, but if we protect at least 30% of it by 2030, then there is a chance that the ocean will continue to provide for us forever."
"Ocean action and climate action are inextricably linked," said Brett Jenks, CEO of Rare. "Through the Bloomberg Ocean Initiative, Mike Bloomberg and Bloomberg Philanthropies have been instrumental in empowering local leaders and coastal communities to be effective stewards of the ocean that sustains us all. We are proud to be a BOI partner and our ongoing work to safeguard critical ocean ecosystems and build the climate resilience of communities around the world."
"Bloomberg Philanthropies continues to expand on its commitment to protect the world's oceans and climate resilient coral reefs," said Dr. Cristián Samper, President and CEO of Wildlife Conservation Society. "By working in partnership, we can safeguard the most vibrant and diverse marine ecosystems while helping coastal communities stay strong in the face of climate change."
The ocean is at the front line of the climate crisis, protecting the planet from the worst impacts of climate change by absorbing 90 percent of the excess heat caused by emissions produced by human activity. But as climate change intensifies, the ocean is changing faster than it ever has – increasing coral death, coastal erosion, and weakening its ability to regulate global climate and weather patterns – yet it remains an often-overlooked part of the climate change debate and receives less than one percent of philanthropic climate funding. With this announcement, Bloomberg aims to further help fill the funding gap and shift the attention of climate leaders and funders to ocean ecosystems.
Bloomberg Philanthropies invests in 941 cities and 173 countries around the world to ensure better, longer lives for the greatest number of people. The organization focuses on five key areas for creating lasting change: the Arts, Education, Environment, Government Innovation, and Public Health. Bloomberg Philanthropies encompasses all of Michael R. Bloomberg's giving, including his foundation, corporate, and personal philanthropy as well as Bloomberg Associates, a pro bono consultancy that works in cities around the world. In 2021, Bloomberg Philanthropies distributed $1.66 billion.