$150 million from Jim and Marylin Simons and Mike Bloomberg in combined support for Stony Brook-Led "The New York Climate Exchange"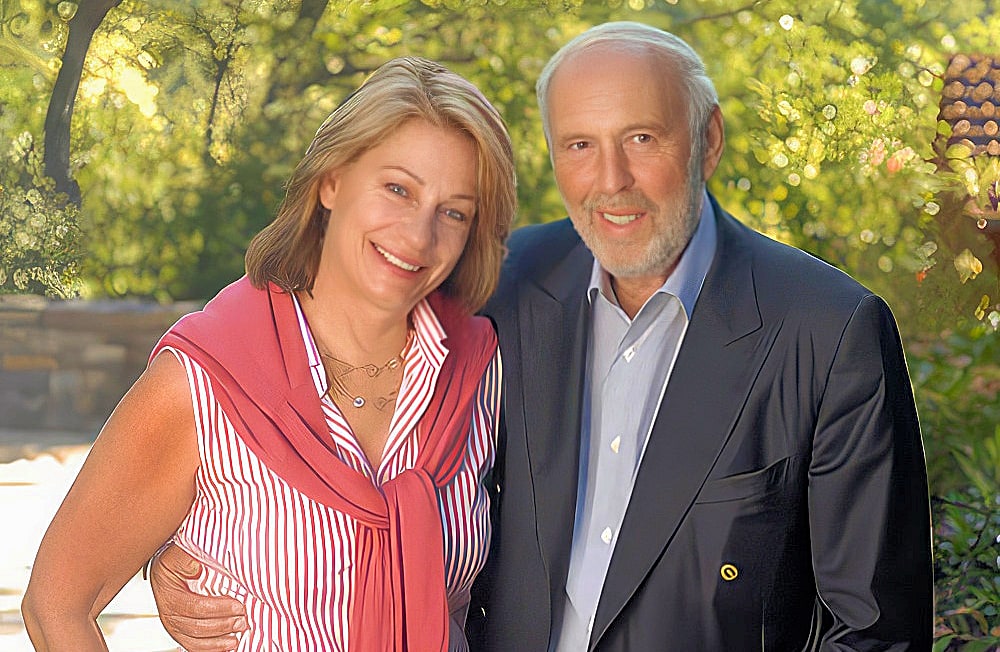 New York City Mayor Eric Adams and The Trust for Governors Island announced that Stony Brook University will serve as the anchor institution for the development of a world-leading climate solutions center on Governors Island in the city's harbor. "The New York Climate Exchange" ("The Exchange") will be a first-of-its kind international center for developing and deploying dynamic solutions to our global climate crisis, while also acting as a hub for New Yorkers to benefit from the rapidly evolving green economy.
In addition to convening the world's leaders and climate experts, The Exchange will host green job training and skills-building programs for local residents to help them launch successful careers, as well as partner with local institutions like the Pratt Institute, Pace University, New York University, the City University of New York, SUNY Maritime College, Brookhaven National Labs and IBM on addressing the social and practical challenges created by climate change — including research that becomes commercially viable and ideas that lead to immediate action on the local and global levels.
The design and operations of The Exchange — conceived by Skidmore, Owings & Merrill (SOM) in collaboration with MNLA, Buro Happold, and Langan Engineering — will also serve as a model for sustainability with a net zero center that complements the natural landscape of Governors Island and the urban landscape of New York City.
"We are honored, excited, and proud to lead this historic center that will cement New York City as the world leader on climate change, the most pressing issue of our time," said Stony Brook University President Maurie McInnis. "Up until now, the development of climate solutions has been siloed, with world leaders separate from expert scientists separate from the on-the-ground green workforce. As an international leader on climate and as the leading public research institution in New York, Stony Brook University will bring stakeholders together from the academic, government and business communities to make The Exchange the center of research, innovation, education and collaboration to address this global crisis. With such eminent partners as the Simons Foundation and Bloomberg Philanthropies by our side, we have a remarkable foundation from which to grow."
The Simons Foundation and Bloomberg Philanthropies, two of the country's leading philanthropic organizations, each announced transformational gifts to support the development of The New York Climate Exchange and related research and teaching already underway at Stony Brook.
The Simons Foundation, together with Simons Foundation International, have pledged a total of $100 million as matching gift support for The Exchange – the largest gift to date under Simons Foundation President David Spergel's leadership and the second largest in Stony Brook's history. The gift is the latest expression of these foundations' dedication to higher education and to advancing the frontiers of research in the basic sciences.
Bloomberg Philanthropies has announced a $50 million contribution to the project, continuing the philanthropy's commitment to New York City, the fight against climate change, and improving higher education in New York and beyond.
"We are honored to partner with Stony Brook and The Exchange," said Simons Foundation President David Spergel. "Our partnership with Stony Brook goes back many years and together we've made great progress in both basic and health sciences. This enduring relationship is a source of great pride for all of us at the Simons Foundation. Stony Brook has catapulted to the forefront of higher education through its remarkable strength as a research institution and its unequaled focus on equity and access. I cannot think of a more qualified institution to lead this historic fight against climate change — a fight that must be met with innovation, intellect and tenacity."
"This great news is 22 years in the making," said Michael R. Bloomberg, 108th mayor of New York City and founder of Bloomberg Philanthropies and Bloomberg LP. "As a candidate for mayor in 2001, I proposed transforming Governors Island into a park and university campus, and the next year Governor Pataki and I worked with President Bush to return the island to city and state for $1. Our administration opened a public school on the island and began building an extraordinary public park, but over time it became clear that the city needed greater control of its development. In 2010, we worked with Governor Paterson to cede the island to the city, which allowed us to lay the foundation for fulfilling our original vision of a year-round destination with a university presence that would bring new life and jobs. Now, thanks to Mayor Adams' leadership, that vision is being fulfilled through a groundbreaking partnership with Stony Brook University that holds so much potential, The New York Climate Exchange. Bloomberg Philanthropies is glad to join Jim and Marilyn Simons and others in supporting it, as part of our global efforts to help cities lead the way in tackling climate change. This is a great day for the island, for New York City's future, and for the fight against climate change."
"It is becoming clear year-after-year in New York, and around the world, that the impacts of climate change are real and are here," said Kevin Reed, associate dean for research and associate professor, School of Marine and Atmospheric Sciences, Stony Brook University. "By partnering with communities, industries, governments, and universities, The Exchange will help to accelerate the implementation of urban solutions to these climate impacts through an interactive research ecosystem where community engagement is paramount. As a climate scientist, I recognize that New Yorkers need solutions to the climate crisis now, and The Exchange will help to make that a reality."
"It is a tremendous honor to design a new kind of campus: one that not only sets the stage for our post-carbon world, but also centers a compelling new public realm for all New Yorkers," said Colin Koop, design partner, SOM. "Our design embodies this stewardship by weaving sinuous mass timber pavilions through the rolling landscape of the park and reusing the historic building fabric of Governors Island. Together, these spaces will cultivate advances in climate research and pilot new technologies that can be deployed across the city, and eventually the world. We look forward to working with the Governors Island Trust, Stony Brook University, and our team of design and engineering collaborators to bring this important project to life."
"Climate change represents an existential challenge, and SUNY is at the forefront of the sustainability, research, and workforce development solutions that will change the world for the better," said SUNY Chancellor John B. King Jr. "Under the leadership of President Maurie McInnis, Stony Brook University is the natural choice to lead the NY Climate Exchange and is perfectly positioned to seize this moment for New York and the nation. Our thanks to Mayor Eric Adams, the Trust for Governors Island, the Simons Foundation, and former Mayor Michael Bloomberg for supporting this once-in-a-generation opportunity."
"In the New York Climate Exchange, Stony Brook University will bring together academic, corporate, philanthropic, and community partners to pioneer an innovative, collaborative approach to devising actionable climate solutions," said Kevin S. Law, chairman, Stony Brook University's Stony Brook Council; and chair, board of directors, Empire State Development. "The Exchange will incorporate cutting-edge research, critical input from affected communities, and the practical experience of committed corporate partners to bring these solutions to market, demonstrating that addressing our energy and climate challenges can generate economic development opportunities."
Key Elements of The New York Climate Exchange include an engaging and interactive living laboratory with 400,000 square feet of green-designed building space, including research labs, classroom space, exhibits, greenhouses, mitigation technologies, and housing facilities, including:
All-electric buildings for the entire campus with on-site solar electrical generation and battery storage meeting 100% of energy demand with net-positive capability to serve the local grid
100% of non-potable water demand met with rainwater or treated wastewater.
95% of waste will be diverted from landfills, making this one of the first sites in the U.S. to achieve True Zero Waste certification.
Climate-resilient design including new buildings raised to 18 feet, no basements, living shorelines.
All new and renovated buildings will meet Living Building Challenge standards, and will be the first buildings in NYC to achieve this certification
A Research and Technology Accelerator that will source and nurture ideas, projects, and new ventures dedicated to solving the climate crisis.
Workforce development opportunities for communities disproportionately affected by climate change — with over 6,000 green job trainees annually once fully operational — ensuring New Yorkers most affected by climate change are well-positioned for new green economy jobs.
Partnerships and collaborative grant opportunities with community-based organizations already working to mitigate the impacts of climate change
A Citizens Advisory Council, composed of key local stakeholders to ensure that partners' and neighbors' voices are heard and amplified as we jointly develop and implement new climate solutions, including those that affect low-income communities of color
A self-sufficient development that goes "beyond zero" toward net positive sustainability.
Academic and community programs that prepare students at every level for careers focused on climate change solutions and environmental justice with hands-on learning, including a semester "abroad" on Governors Island, fellowship and internship programs, and continuing education.
Stony Brook, a flagship of the SUNY system, has formed international partnerships with a wide range of academic partners outside of New York City, research foundations and social justice organizations to create The New York Climate Exchange. In addition to the local partnerships previously mentioned, partner institutions include Georgia Tech, University of Washington, Duke University, Rochester Institute of Technology, and the University of Oxford. Also partners of The Exchange are the Simons Foundation, one of the largest charitable organizations in the United States; social justice and local advocacy groups such as GOLES, The Point, and WeACT for Justice; treasured New York institutions including the American Museum of Natural History; and research and business leaders such as Boston Consulting Group and Moody's.
Stony Brook University has a deep history of innovation around climate science. Stony Brook University's School of Marine and Atmospheric Sciences (SoMAS) has been a leader in severe storm research, weather prediction, climate change research and mitigation efforts, educational and research efforts to restore and protect the water quality of Long Island Sound, Shinnecock Bay, New York Harbor, and other bodies of water on Long Island.
By partnering with local organizations and community advocates, SoMAS has undertaken a range of initiatives to improve water quality and restore aquatic habitats. For example, SoMAS conducted research on the causes of harmful algae blooms and developed methods to mitigate their impact on the environment. SoMAS also successfully worked to restore native oyster populations in Shinnecock Bay; oysters serve as natural water filters and improve overall water quality. The school has also promoted sustainable aquaculture practices, work that not only is important for the local ecosystem but also contributes to our understanding of how to protect and restore aquatic environments around the world.
In addition, SoMAS conducts broader sustainability-related and atmospheric research with the goal to improve predictability about weather-related risks, and to build resilience against severe storms, storm surge and coastal flooding and erosion problems. Research has uncovered sources of pollution related to groundwater, and SoMAS faculty have developed innovative technologies to reduce nutrient runoff and dangerous contaminants such as nitrogen from groundwater. Atmospheric research includes investigations of storm patterns and computer modeling of storms, results of which indicate that storms now often produce more water and intensity that leads to more predicted damage.
Other atmospheric research includes the use of high-tech airplanes and radar technologies to better understand and predict air quality, and how the human health impacts of air pollution will be reduced in concert with mitigation of greenhouse gas emissions.
Co-founded in 1994 in New York City by Jim and Marilyn Simons, the foundation exists to support basic — or discovery-driven — scientific research undertaken in the pursuit of understanding the phenomena of our world. Marilyn Simons served as president of the foundation until 2021, when David Spergel was appointed president of the foundation.
The Simons Foundation's support of science takes two forms: We support research by making grants to individual investigators and their projects through academic institutions, and, with the launch of the Flatiron Institute in 2016, we now conduct scientific research in-house, supporting teams of top computational scientists.
The mission of the Flatiron Institute is to advance scientific research through computational methods, including data analysis, theory, modeling and simulation.
New experimental techniques in many fields of study are creating enormous amounts of raw, complex and sometimes noisy data. Understanding and learning from these data and modelling the complex processes they reflect is a pressing concern in the scientific community. At the same time, advances in concepts, algorithms and computation are enabling new kinds of simulations that can capture rich nonlinear, and often time-dependent, processes. These simulations demand increased sophistication in scientific technique, algorithmic development and computation.
The Simons Foundation launched the Flatiron Institute to address these challenges, developing new conceptual, algorithmic and computational methods and bringing them to bear on important scientific issues. The institute provides a highly interactive research environment for physicists, biologists, astronomers, neuroscientists, chemists, computational scientists, data scientists and programmers to work together to create, deploy, apply and support state-of-the-art computational methods.
The institute currently comprises the Center for Computational Biology, launched in 2013 as the Simons Center for Data Analysis; the Center for Computational Astrophysics, launched in 2016; the Center for Computational Quantum Physics, launched in 2017; the Center for Computational Mathematics, launched in 2018; and the Center for Computational Neuroscience, launched in 2020. The work of these centers is supported by the Scientific Computing Core.
The Simons Foundation makes grants in four areas: Mathematics and Physical Sciences, Life Sciences, autism research (Simons Foundation Autism Research Initiative) and Science, Society and Culture. Our Simons Collaborations are a new funding model for the foundation, spanning Mathematics and Physical Sciences, Life Sciences and Neuroscience.
The Simons Foundation seeks to create strong collaborations and foster the cross-pollination of ideas between investigators, as these interactions often lead to unexpected breakthroughs. In an effort to promote such interaction between scientists, in 2012 the foundation launched a new collaborative funding model, the Simons Collaborations, which bring funded investigators — sometimes from different disciplines — together to work on a timely and important problem. To date, 23 Simons Collaborations have been launched in and across our Mathematics and Physical Sciences and Life Sciences divisions.
The Simons Foundation Mathematics and Physical Sciences (MPS) division supports research in mathematics, theoretical physics and theoretical computer science by providing funding for individuals, institutions and science infrastructure.
The Simons Foundation Life Sciences division seeks to advance basic research on fundamental questions in biology. The division currently focuses on microbial oceanography and computational biogeochemical modeling of marine ecosystems, microbial ecology and evolution, and support of early-career scientists.
The Simons Foundation Autism Research Initiative (SFARI)'s mission is to improve the understanding, diagnosis and treatment of autism spectrum disorders by funding innovative research of the highest quality and relevance. SFARI offers grant programs to support bold, imaginative and rigorous research relevant to its mission. Standing Request for Application (RFA) programs include Pilot Awards, as well as Bridge to Independence Awards. Additional funding mechanisms include the Collaborations, which support multidisciplinary teams of investigators tackling critical issues in the autism research field, and Targeted RFAs, which are offered on an ad-hoc basis. To help increase diversity and fight inequity in autism research, SFARI also offers a Supplement to Enhance Equity and Diversity (SEED) Award.
To help bring new researchers in the field, lower barriers of entry and drive research, SFARI has created and maintains several resources for autism scientists. These resources include autism cohorts such as SPARK, Simons Searchlight and the Simons Simplex Collection, animal and cell models of autism, as well as a repository of postmortem brains from donors with and without autism, and related neurodevelopmental conditions. The editorially independent, online magazine Spectrum provides comprehensive news and analysis of advances in autism research. For more information on SFARI, please visit SFARI.org.
The Simons Foundation's Science, Society and Culture programs seek to stimulate a deeper interest and understanding of science and mathematics among students, professionals and the interested public. Science Sandbox supports and collaborates with programs that unlock scientific thinking in everyone. The division's education initiative, Math for America, focuses on reaching secondary school students with a corps of outstanding STEM teachers and leaders in U.S. public schools. Quanta Magazine seeks to illuminate basic science and math research through public service journalism. Two lecture series, Simons Foundation Lectures and Simons Foundation Presents, connect practicing scientists and the interested public with some of the top minds in science in a lecture setting.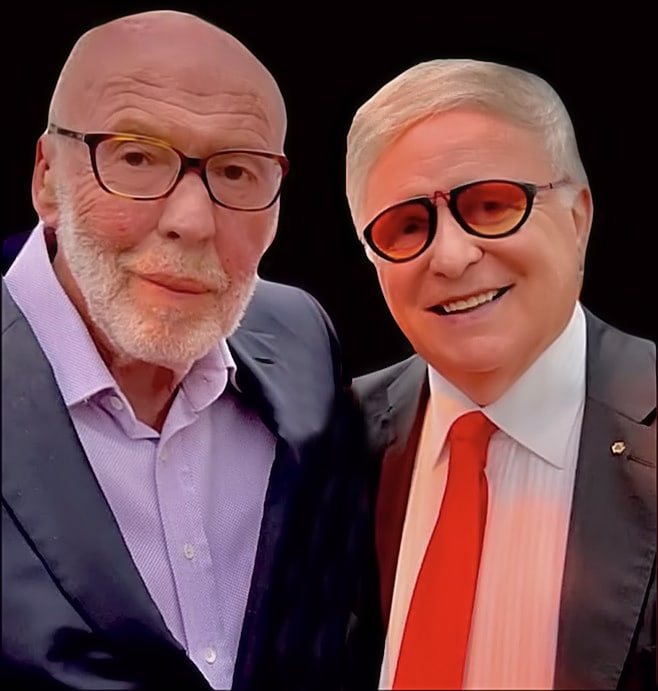 Photo: Mega-philanthropist James Simons with Lifestyles Magazine/Meaningful Influence founder Gabriel Erem