$100 million gift from philanthropists James and Morag Anderson to Johns Hopkins University's School of Advanced International Studies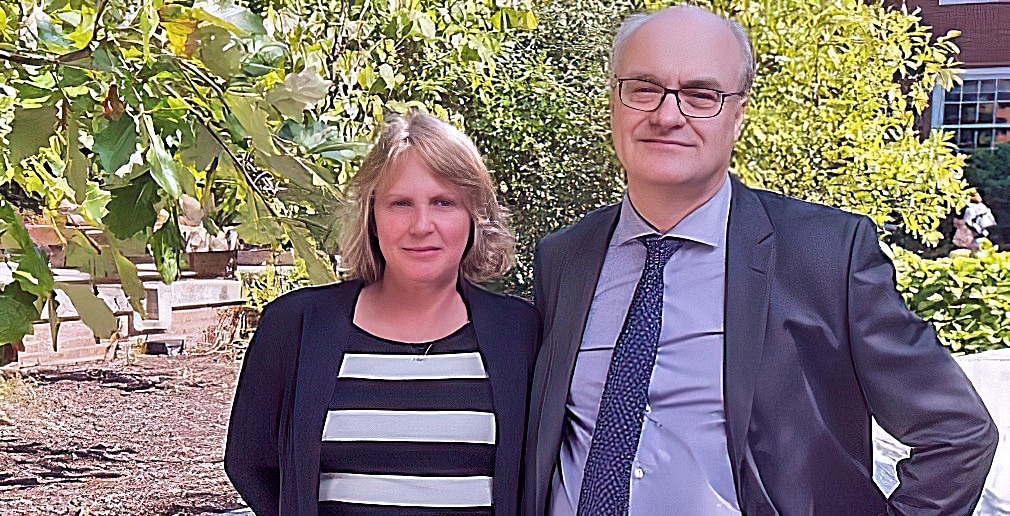 A transformative gift of $100 million from philanthropists James and Morag Anderson to Johns Hopkins University's School of Advanced International Studies (SAIS) Europe campus in Bologna, Italy, will create new opportunities for students and faculty from throughout Europe and around the world to address the multifaceted challenges of a rapidly changing world, Johns Hopkins University announced today.
The gift will allow Johns Hopkins to expand its SAIS Europe campus in Bologna into an international hub for research and collaboration, bringing together leading academics and practitioners around the world to train the next generation of international experts, offer multidisciplinary solutions to global problems, facilitate scientific and technological research on public policies, and work towards peace and democratic development.
Edinburgh-based investor James Anderson is the chair of the Johns Hopkins University SAIS Europe Advisory Council and a member of the university's Board of Trustees. He is a 1981 SAIS Europe alumnus and longtime supporter of the school.
"The gift from James and Morag Anderson is transformational. With it, SAIS Europe will further secure its role as a vibrant hub for scholarship, learning and public policy at a critical juncture in global history. Among the most significant private philanthropic contributions ever made to higher education in Europe, it marks the Andersons' belief in the unique role that universities can play in shaping and strengthening democratic society," said Ronald J. Daniels, president of Johns Hopkins. "Since our founding in 1876, the Johns Hopkins University has confronted society's great challenges through research, discovery, and service to humanity. This gift allows us to continue to build on that rich tradition and expand the impact of America's first research university on a global scale."
"SAIS Europe has taught me that it is vital for leaders to think critically and imaginatively about complex problems that have no easy answers," said James Anderson. "I believe that it is essential to make it possible for the most talented and engaged students to study with our faculty and each other in Bologna regardless of their ability to pay for it, and to create opportunities to amplify Johns Hopkins' impact across borders and oceans.  I believe in the vision for the university and for SAIS Europe, and I hope others will join me in helping us realize our ambitions."
SAIS Europe was founded in 1955 with a focus on international affairs and the frameworks for transnational cooperation and peace at a critical moment in the development of the post-war world order. Today, SAIS Europe's campus location in Bologna offers a unique bridge to different parts of the world, not only in direct partnership with SAIS' flagship campus in Washington, D.C., USA, and longstanding program in Nanjing, China, but also at the intersection of academic, research, and convening activities in Europe, neighboring countries in Africa and the Mediterranean basin, and beyond.
The Andersons' gift will further elevate SAIS Europe as the university's European hub, creating a dynamic center for inter-disciplinary research from across the institution that builds on Johns Hopkins' 70-year presence on the continent.  As America's first research university, Johns Hopkins has been at the forefront of the creation, curation, and dissemination of reliable facts and truths for the betterment of the world since 1876.
Philanthropists James and Morag Anderson are prominent supporters of the arts, education, sports, and youth in Scotland. Their philanthropic relationship with SAIS Europe dates back to 2001, and their support is behind many of the recent achievements of the SAIS Europe campus, from the renovation of its architecturally renowned headquarters to transforming the lives of students and faculty through investments in financial aid and professorships. After earning his degree in history from the University of Oxford, James enrolled at SAIS Europe in 1981, where he specialized in international affairs.
The university will recognize the Andersons' philanthropy by naming the James and Morag Anderson Campus in Bologna.
"SAIS is renowned for bringing together leading scholars and practitioners to devise innovative solutions to complex issues of the 21st century," said SAIS Dean James Steinberg.  "The Andersons have now fueled our ambitious transformation to fulfill our vision for the future of SAIS Europe as the go-to institution for research, teaching, and public engagement on the pressing global challenges. It's hard to imagine a more essential goal, nor a more critical time."
Consistently ranked as one of the top institutions for graduate study in international politics, economics, and foreign languages, Johns Hopkins SAIS currently enrolls more than 1,100 students in over 20 programs in Washington, Nanjing, and Bologna; and it has well over 20,000 alumni in leadership roles around the world, of whom 8,500 spent at least one year of their education at the Bologna campus. SAIS Europe enrolls approximately 200 students from 40 countries who train under a resident core and language faculty, together with adjunct professors from leading institutions and organizations in Europe and worldwide. SAIS Europe alumni – typically known as Bolognesi – live and work across the world in leadership positions in the public and private sectors, multinational institutions, nonprofit organizations, media, and academia.
"SAIS Europe has made significant contributions to international relations over the past 70 years, hosting some of the world's most influential academics and practitioners, from Nobel Prize winners to prime ministers," notes SAIS Europe Director Michael Plummer. "This gift will allow us to build on this stellar tradition and make SAIS Europe in Bologna the top destination for the education of current and future global leaders, from Europe and across the globe, who seek to apply evidence-based, forward-looking analysis to pressing, multidimensional policy issues for the betterment of the world. There is no other school or university better prepared to seize the attendant opportunities for research and education than SAIS Europe and Johns Hopkins."
The Andersons' contribution kicks off the implementation of SAIS Europe's Vision 2030 strategic plan. The Andersons' gift will specifically support Vision 2030's four pillars: faculty expansion, the integration fund, financial aid, and facilities growth.  It will also enable SAIS Europe to strengthen its collaboration with other European universities in diverse areas of global policy studies.
The expansion of its full-time resident faculty is key to the success of Vision 2030. The Andersons' gift will enable SAIS Europe to recruit full-time scholars and practitioners who can strengthen the demanding curriculum, global profile, and research initiatives in many key programmatic areas, such as: Mediterranean studies, global risk, sustainable development and climate, European studies (including Eastern Europe and EU integration), new technologies and international relations, industrial organization, finance, and markets.
The fundamental concept of the Integration Fund is to deepen integration of SAIS Europe with the firmament of Johns Hopkins University schools and centers in the United States and in China. The existing Integration Fund, created in 2017 by a prior gift from the Andersons, will be exponentially expanded to support as many as 20 faculty and staff for exchanges annually. It will foster cross-discipline, cutting-edge teaching and research with the goal of offering a systematic convening space for leaders from Europe and neighboring countries in the Mediterranean basin and the Middle East.
Financial assistance to graduate students ensures that a SAIS Europe education is affordable, accessible, and inclusive for the highest caliber of international students regardless of their social and economic backgrounds. The Andersons' gift will finance new two-year fellowships for master's degree students spending one year in Bologna and one year in Washington, D.C. as well as new fellowships for students spending one or two years at the SAIS Europe campus.
Undergraduate Scholarships and Travel Assistance
Current Johns Hopkins undergraduates will benefit from enhancements to the JHU and SAIS BA/MA Tuition Fund, which provides financial support to students who earn their Bachelor of Arts degree at JHU and their Master of Arts degree at SAIS over a five-year period and enter the workforce with a top-notch professional degree. The Andersons' gift will expand this fund and strengthen the academic and institutional underpinning of the JHU/SAIS BA/MA program. By making the program sustainable and creating the broadest possible opportunities for undergraduate students to study at SAIS Europe in Bologna, it will boost the undergraduate student presence at SAIS Europe to a steady state of 20 BA/MA students per academic year.
SAIS Europe will create a world-class campus environment by adding almost 3,000 square meters to the existing Bologna Center building. The campus will include more convening space, conference facilities, a language center, additional classrooms, and much needed offices, both for visiting faculty from Baltimore and Washington, as well as for existing faculty and staff.
Johns Hopkins is America's first research university. For more than 140 years Johns Hopkins has been a world leader in both teaching and research, with nine academic divisions — the Krieger School of Arts and Sciences, the Whiting School of Engineering, the Bloomberg School of Public Health, the Carey Business School, the Peabody Institute, the Paul H. Nitze School of Advanced International Studies, and the schools of Medicine, Nursing, and Education — plus the Applied Physics Laboratory, a nonacademic division that supports national security and pursues space science.
A division of Johns Hopkins University, the School of Advanced International Studies (SAIS) is a global institution that offers students an international perspective on today's critical issues. For 75 years, Johns Hopkins SAIS has produced great leaders, thinkers, and practitioners of international relations. Public leaders and private sector executives alike seek the counsel of the faculty, whose ideas and research inform and shape policy. Johns Hopkins SAIS offers a global perspective across three campus locations: Bologna, Italy; Nanjing, China; and Washington, D.C., USA. The school's interdisciplinary curriculum is strongly rooted in the study of international economics, international relations, and regional studies, preparing students to address multifaceted challenges in the world today.