$100 million by Benioffs to education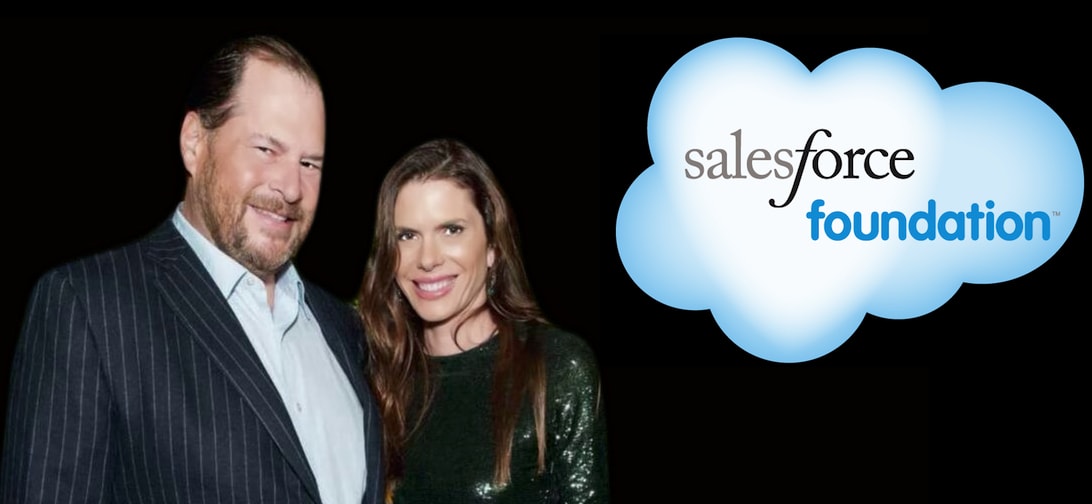 Salesforce pioneer Marc Benioff and his wife, Lynne, have focused their philanthropy on healthcare, the environment, public education, and homelessness.
To date the Benioffs have given more than $250 million to the University of California, San Francisco, to build UCSF Benioff Children's Hospitals in San Francisco and Oakland.
They have also established the Benioff Ocean Initiative at the University of California, Santa Barbara, the UCSF Benioff Homelessness and Housing Initiative, the UCSF Benioff Initiative for Prostate Cancer Research, and the UCSF Benioff Center for Microbiome Medicine, and they have provided the initial funding for the Stanford Microbiome Therapies Initiative.
Benioff pledged that Salesforce would donate $100 million over 10 years to support local schools. What started as a $2.5 million donation that first year to San Francisco Public Schools has since grown to more than $165 million in support of education around the world.
Benioff's Salesforce recently announced $25 million in new grants to support school districts and education nonprofits across the United States.
This year marks the tenth anniversary of Salesforce's commitment to education, with giving now totaling more than $165 million in support of schools, educators, and students around the world.
As the education system looks to recover from the COVID-19 pandemic, schools need support more than ever. Students face significant learning loss and many are struggling with social and emotional traumas experienced during the pandemic. This gap is particularly pronounced for students of color. Educators are also feeling the pressure, with teacher shortages leading to increased workloads and class sizes.
This year's funding will focus on student wellbeing, supporting both social and emotional learning, behavioral and mental health programs, and trauma-informed therapy, as well as robust support to improve the resiliency of schools and educators.
Salesforce currently celebrates 10 years of supporting schools at Presidio Middle School.
To celebrate reaching a milestone — 10 years of giving — Salesforce hosted a special event at Presidio Middle School in San Francisco.
"Celebrating Our Schools" featured remarks from Salesforce Co-CEOs Marc Benioff and Bret Taylor, San Francisco Mayor London Breed, Oakland Mayor Libby Schaaf, San Francisco Superintendent Dr. Matt Wayne, and Acting Oakland Superintendent Dr. Sondra Aguilera.
"It's been an amazing 10-year journey working with our schools," says Ebony Beckwith, Chief Business Officer and CEO of the Salesforce Foundation. "As schools' needs have changed, we've evolved to meet those challenges – from the early days of providing WiFi and devices, to STEM and computer science, and now a renewed focus on mental health. We're just scratching the surface of what we can do together."
"Salesforce's 10-year partnership represents the single largest investment from a private entity to SFUSD. Their support continues to have a profoundly positive impact on San Francisco public school students, preparing them for 21st Century-learning in science, technology, engineering and math (STEM) education, all while decreasing the opportunity gap for our underrepresented students of color and girls," says Dr. Matt Wayne, Superintendent of SFUSD. "We are incredibly grateful for their leadership, vision, and investment in our public schools."
The most recent announcement builds on Salesforce's longstanding partnerships with schools and other organizations, supporting students' urgent wellbeing needs and improving school resilience by investing in educators at all levels. Grants include support to:
San Francisco Unified School District: STEM instruction, support for middle schools' educators, and middle school redesign.
Oakland Unified School District: Case management and other holistic newcomers supports STEM instruction, and educator retention.
Indianapolis Public Schools: Sensory-friendly environments for struggling students, peer mentors, and social-emotional professional development.
Chicago Public Schools: Violence prevention in high violence neighborhoods, advanced STEM education, and principal pipeline efforts.
New York City Department of Education: Academic recovery programs and teacher professional development.
Institute for Educational Leadership: Preparation and support for community schools, which leverage external partnerships to support children's holistic needs.
The Partnership for LA Schools: Social-emotional services, community partnerships and wrap-around services for students in LA's historically under-resourced schools.
Ed Trust: Educator diversity investments to drive improved student outcomes and equity.
New Leaders: Recruitment and support for diverse school leaders, including a new partnership with a Historically Black Colleges and University (HBCU).
TNTP: Improved recruitment and retention of diverse educators and academic acceleration to address students' learning gaps after the pandemic.
Chiefs for Change: Specialized support for district superintendents to ensure strong leadership for school systems.
"The partnership between Oakland Unified and Salesforce is critical for providing additional support for young people who are often furthest from opportunity," said OUSD Acting Superintendent Dr. Sondra Aguilera. "With so much remarkable assistance, Salesforce has helped our schools stay resilient in the face of great challenges, leaving us in a place where the future is indeed promising for all of Oakland's young people."
With so much remarkable assistance, Salesforce has helped schools stay resilient in the face of great challenges, leaving them in a place where the future is promising for all of Oakland's young people.
"At IPS, we are grateful for our continued partnership with Salesforce," said Dr. Aleesia Johnson, Superintendent, Indianapolis Public Schools (IPS). "Through their consistent support, we are working to advance, scale, and sustain racial equity initiatives across the district, and to continue to increase social and emotional resources for students and staff most impacted by the COVID-19 pandemic."
Over the past decade, Salesforce has also developed deep partnerships with local educators. Through its Principal Innovation Fund, Salesforce has provided unrestricted funds to support principals' top needs – addressing everything from STEM education and computer science to teacher recruitment and retention programs, to programs designed to boost students' and teachers' social and emotional wellbeing.
Photo: Philanthropist Marc Benioff with Lifestyles Magazine/Meaningful Influence founder Gabriel Erem