$10 million gift for new Rawlinson Stadium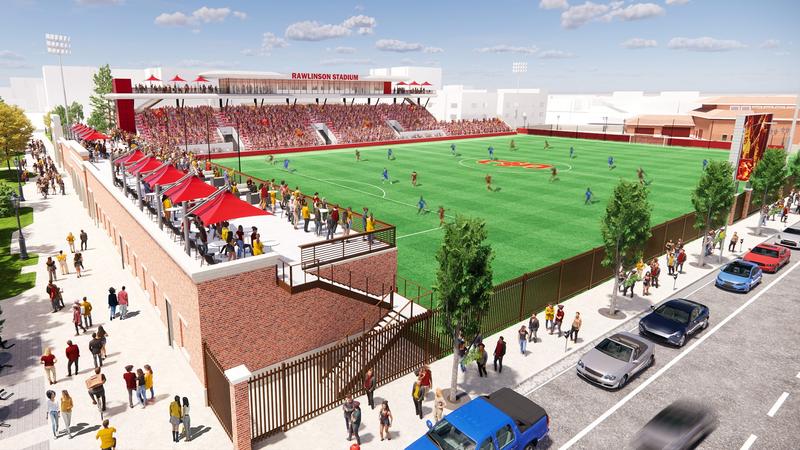 USC women's soccer and lacrosse programs will have their own state-of-the-art stadium starting in 2025, thanks to a $10 million gift from The Fritz B. Burns Foundation, USC President Carol L. Folt announced.
"Rawlinson Stadium will be the place for the Women of Troy to dazzle us with their athletic prowess even more," Folt said.
"I love making this announcement during a milestone year: the 50th anniversary of Title IX. USC's commitment to women in sports is stronger than ever."
The $38 million project, which will begin by the end of the year, will replace and expand upon the current site of play for the women's teams: Soni McAlister Field at 30th and Hoover streets, just north of the University Park Campus. The field has been in use since 1998, with seating limited to about 1,000 spectators.
The new stadium will be named after the family of the late, prominent Los Angeles philanthropist Joseph Rawlinson, who was close friends with fellow L.A. philanthropist and homebuilder Fritz B. Burns. Burns' namesake charity is now run by Rawlinson family members, many of whom are USC alumni.
"Due to its top-notch and varied programs, USC has an important place in many résumés," said Rex Rawlinson, president of the foundation. "Its athletic endeavors inspire those seeking championships in academics as well."
"We just want to be part of helping make the city of Los Angeles great, and this stadium is another step forward," said Justin Rawlins, the grandson of Joseph Rawlinson and a director with the Fritz B. Burns Foundation. "This will make the city better for women's sports and make USC that much better than it already is."
Rawlinson Stadium will feature:
2,200 fixed seats — with a total capacity of 2,500 for game days
separate locker rooms for soccer and lacrosse teams
spectator viewing decks and social spaces
a state-of-the-art press box
restrooms, a box office, concession stands and a formal entry plaza
team meeting area, sports medicine space, nutrition fueling bar, and a locker room and meeting space for coaches
an LED video board and stadium wide audio system, plus field lights and a natural grass playing surface
"We are extremely grateful for the support from the athletics department to ensure that our players have a state-of-the-art facility to train and compete in," USC women's lacrosse head coach Lindsey Munday said, noting that USC will join the Big Ten next year.
USC women's soccer head coach Jane Alukonis said that the team will soon play in one of the best, most modern stadiums in the country.
"It will be an incredible place for our student-athletes to showcase their talents and their 'Fight On' mentality," Alukonis said. "Thank you so much to the generous donors who are making this stadium come to life."